The Curious Tale of Maria Frances Watson (and Beatrix Potter)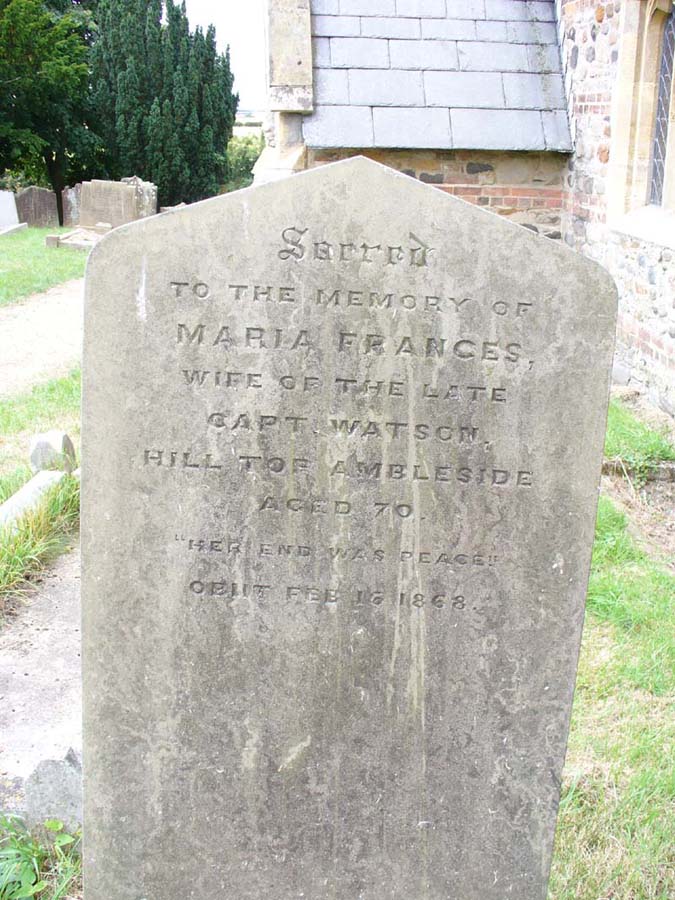 There are many gravestones in St Alban's churchyard but the most puzzling is that of Maria Frances Watson.
The grave is in a very prominent place next to the church, suggesting that she was of some importance.
The inscription tells us that she died in 1868 aged 70, hence she was born in 1798, not a bad age for the time.
It further tells us us that she was the wife of the late Captain Watson of Hill Top, Ambleside.

Now the puzzling bit starts. Hill Top, Ambleside was later the home of Beatrix Potter (from 1906).
It turns out that the Captain was captain Ralph Watson of the Lancashire Militia, he has a will dated 1832 which mentions Maria
and a child named Harry. We can't be sure when Ralph died but at that time wills were often not made until the person
was on their death bed.

Then the puzzle returns. We can find no mention of Ralph, Maria or Harry in any of the subsequent censuses.
Maria should be in the censuses from 1841, 1851 and 1861, but there is no sign of her.
The next time we hear of Maria is when she is dead and in St Alban's churchyard.
There is an official record of her death which confims the information on the gravestone.

There is one possibility which is a bit of a guess but it does seem to fit many of thr facts.
Maria may well be Maria Wordell born in Swanland on 21st September 1797
and as she died between January and March 1868, that would still fit with her being aged 70 when she died.
She is recorded as being the daughter of Joseph amd Mary Wordell.
Then there is a record of a marriage between Maria (Mary in the record) and Ralph Watson on 11th March 1818 in Hull.
With Ralph being in the Army, that might then explain the move from Hull to Ambleside. Also after his death c 1832, Maria may
well have moved back to Hull to be with her family. It is then not so unlikely that she moved to Withernwick c 1850.

She clearly thought a lot about Ralph to mention him on her gravestone.
Even with the above guesses it still leaves us with a rather enigmatic story.