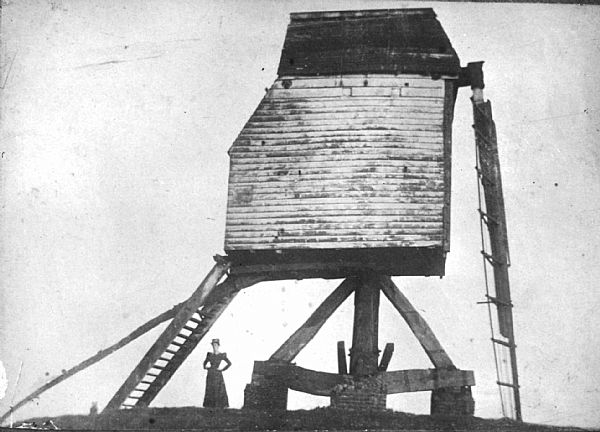 Withernwick Mill in 1898.
The woman's name is on the photo as M A Bateson, probably Eleanor Bateson sister in law of Ernest Colton Wright
headteacher of the school. The school was on the opposite side of Aldbrough Road to the Mill.
From the 1841 census the mill was worked by the Oman family, first by John Oman (b 1785) and then his son John Oman (b 1833).
By the 1861 census John (junior) is described as a miller and farmer, by 1891 he is just decribed as a farmer.
This suggests that the mill stopped bing used between the 1881 and 1891 censuses. This gave it 10 years or so to fall into the disrepair of the photo above.
Click here to see census details of the Oman family.

We don't tend to think of Withernwick as being hilly, but the mill stood on Mill Hill,
below is a photo of Mill Hill taken from the footpath from Butcher's Lane to Withernwick Hall,
it does show that the hill is quite significant by Holderness standards.