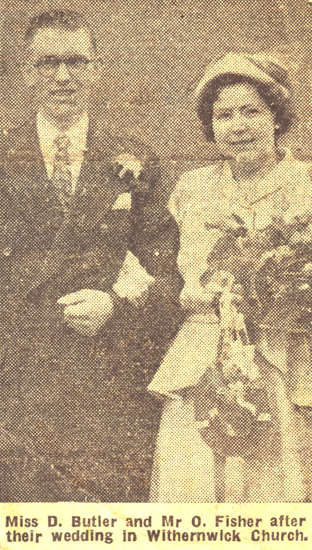 The marriage of Owen Fisher and Doreen Butler,
after their wedding service at St Alban's.

Owen's father was James Fisher b 1892.
This branch of the Fisher family was related to the
one that lived at Glebe Farm, Cowden Lane.
John Fisher b 1822 had (amongst others) two sons
George b 1855 and John b 1861.
Joan Johnson and Doreen Dunn are grandchildren of George and Olwin was a grandchild of John, James' father.
So John b 1822 is their common great-grandfather.

Owen had other siblings: John, George, Sheila, Victoria, Valerie and Victor.
They lived in Lynton Terrace (the second one past the Sunday School).

Click here to see a Fisher family tree

Click here to see census details.