The Topham Family

From the monuments in St Alban's church, it can clearly be seen that the Topham family who lived in Withernwick in the 18th century are one of the most prominent ever to live in the village. Few from that age leave any mark at all, but we can discover so much about the Topham's.

Matthew Topham (1699 to 1775) was appointed Vicar of S Alban's in 1754 having come from Emley (near Huddersfield). He brought with him his wife Ann (nee Wilcock) and his young family.
The boys obvious spent some of their upbringing in the village.

They were obviously an enlightened and educated family as all three of the sons that we know anything about ended up living prosperous lives in London; we can be sure not many Withernwick families of the time brought their children up with such aspirations.
The Topham's even had their own coat of arms which can be seen on all the monuments. All the family members on the monuments lived to be a good age for the 18th century.

We can also guess that they lived in a significant house. The present 'old' vicarage in Beverley Road was not built until around 1870, so could not be the house of the Topham's. Maybe the previous vicarage was on the same site and could have been a Georgian house like Withernwick Hall or a 17th Century house with Dutch gables like Hornsea Old Hall.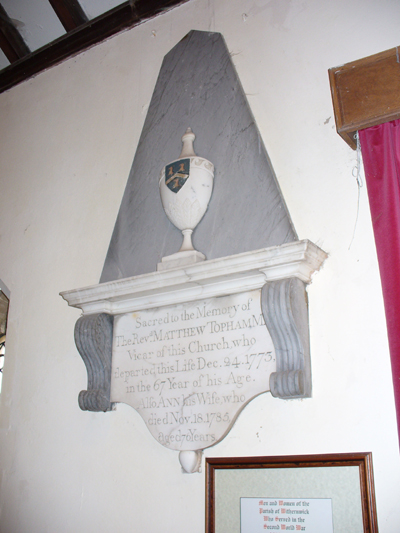 The monument to Rev Matthew Topham d 1775 aged 76
and his wife Ann, died 1785 aged 76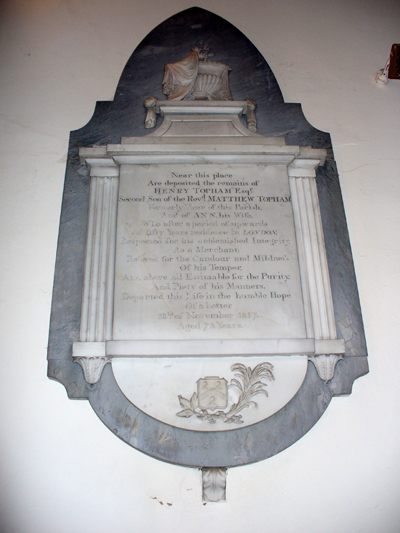 The monument to Henry Topham, 2nd son of Matthew and Ann
died 28th November 1817, aged 73.

After a period of upwards of fifty years residence in London,
respected for his unblemished integrity as a merchant.
Beloved for the candour and mildness of his temper.
And above all estimable for the purity and piety of his manners.
Departed this life in the humble hope of a better.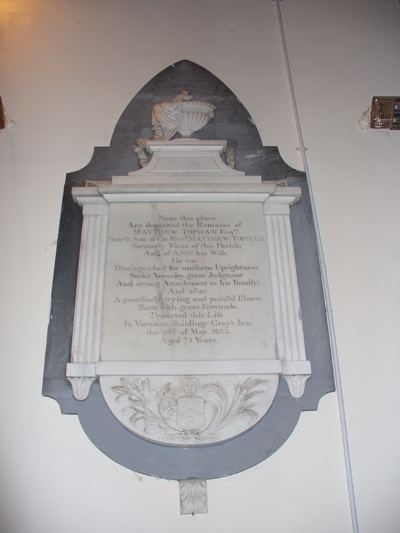 The monument to Matthew Topham, 4th son of Matthew and Ann
died 18th May 1823, aged 73

He was distinguished for uniform uprightness, strict veracity, great judgment and strong attachment to his family.
And after a peculiarly trying and painful illness born with great fortitude.
Departed this life in Verulam Buildings, Gray's Inn (London).