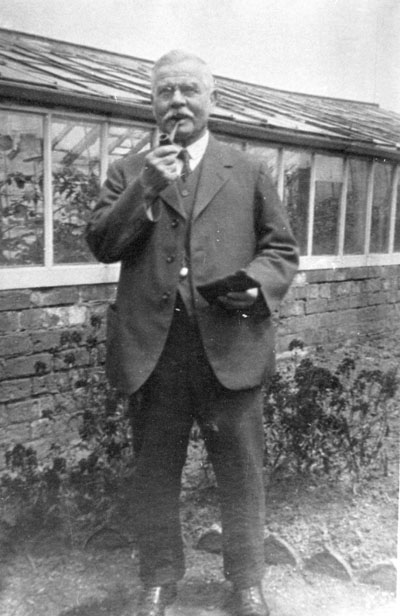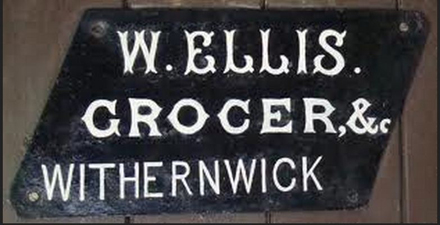 A photograph of Wilstop Ellis, who founded and ran the shop on Main Street. The shop continued until the 1970's, later ran by his son Cecil Dibnah (C D) Ellis. Click here to see a bill from the shop dated 1971.
The photograph is taken in the back garden of the shop which, was until recently (when a new house was built on part of the land c 2005) very extensive. We can guess from the photograph that Wilstrop was a very keen gardener.
The photograph was probably taken c 1920 (guessing that he is about 65).

There are quite a few photos of the shop on the photo gallery (although none are really good), so I won't put links here, just have a look.
For another photo of Wilstrop - click here.

His wife Elizabeth (nee Dibnah) was the sister of Arthur Dibnah, who was the village blacksmith in the 1901 census. This explains where the middle name of Dibnah of all of the children came from.

In 1911 his father Francis was living with him. Francis had been married twice, the second time to Hannah Cartwright (who died before 1900) but his first marriage was to Elizabeth Wilstrop, Wilstrop's mother, which explains his unusual name (Elizabeth died a couple of years after Wilstrop's birth).

Below is the 1911 census entry for the Ellis family.

Name
Status
Sex
Age
Year of Birth
Profession
Place of Birth
Wilstrop Ellis
Head
M
55
1856
Grocer and Draper
York
Elizabeth Jane Ellis
Wife
F
47
1864
Humbleton
Cecil Dibnah Ellis
Son
M
14
1897
School
Withernwick
Dorothy Dibnah Ellis
Daughter
F
13
1898
School
Withernwick
Eric Dibnah Ellis
Son
M
7
1904
School
Withernwick
Francis Ellis
Father
M
82
1829
Retired Ruly man
(cart driver)
Beningbrough, York
Dora Atkins
Servant
F
15
1896
Servant
Whitedale
To the left is a matal sign in Hornsea Museum which was probably attached to a van or bicycle belonging to the Ellis family, The shop was still called W Ellis after the death of Wilstrop but this does loom contemprary with his time.



Return to Photo Gallery