Christmas Fair and Car Boot Sale (7th Dec 2009)

The Christmas Fair went ahead on Saturday 5th December, the weather was as good as could be expected at this time of the year and it proved to be a great success. Click here to see some photographs.
So far (provisionally) the Craft made £151 the Tombola made £105 and the Ladies group kindly gave the Village association £20 for facilitating the event.
So yet another great Withernwick event, and hopefully yet another that will become an annual event.

It did start to rain soon after the Christmas Fair was packed away and did not stop until 10.30am the next day, so sadly but inevitably the Car Boot Sale did not go ahead. No doubt the idea of a car boot sale is a good idea and so for sure there will be more.

Thanks to Carol for the Quizzes (30th Oct 2009)
We must all thanks Carol for organising and running the Falcon Quiz for the past couple of years. We probably all know by now that she will no longer be doing the job that she has done so brilliantly. The organising does take, time, effort and enthusiasm and Carol has all these qualities in abundance and she will be sorely missed. It is to be understood that quizzes will take place in the Falcon and we have to hope that they are at least half as good as the ones Carol organised. So a very big thank you from everyone in Withernwick.
Save Money on Your Water Rates (29th Oct 2009)
Do you feel you are paying too much for your water rates - well you can save £40. If your rainwater does not go directly into the sewerage system but, for example, runs onto the footpath - as it does for many in the village, then you can save £40 on your bill. All you need to do is ring the water company informing them of your circumstances and they will send you a form to complete which requires a sketch showing were the rainwater goes. The only possible catch is that none of your water must go into the sewerage system, so if your water at the front of your house ends up on the footpath but that from the rear ends up directly in the sewer, then I'm afraid its no good asking. But its certainly worth a look at your drainage system.

Withernwick Walter (20th October 2009)
Let us introduce you to Withernwick Walter. He is a very adventurous teddy bear who wishes to travel far and wide, maybe to Hull, Hungary or the Himilayas.

All you need to do is e-mail Dawn at ddickinson@tesco.net and she will deliver Walter to you. Then you need to carefully stow him away in your luggage and when you get to where you are going, have your photograph taken with him in front of some iconic image that symbolises the place, so in front of the Eiffel Tower or Bilton ASDA. Let the world be your oyster and your imagination run riot!

Obviously then e-mail the photo to Paul and they will end up on the website.
Sponsored Walk - 11th October 2009 (20th October 2009)
The sponsored walk took place on Sunday 11th October 2009, any money raised was in aid of the Everyman Cancer Charity (Click on the link to take you to their website). About 40 villagers and their dogs took part and so far £500 has been raised and there is still more money to come; this is an excellentr effort for the charity and another visable sign of the growing spirit of the village. People could either walk 1, 3 or 5 miles, heading out over the fields towards West Newton. The weather was fine except for one quick shower, which in no way could dampen the indomitable spirit of the walkers.
Click here for photographs
We Nearly Didn't Have a Website (6th Oct 2009)
Well I was nearly very rudely reminded that nowhere is perfect. I had previously told you how there seemed to be little or no crime here in Kuwait - well I did become a victim, thankfully only very briefly. On Monday morning, during break, my laptop was stolen. Apart from the material cost, at lot of work including much of the latest website content would have been lost - so we would have been without a website for quite some time while I rebuilt it. Fortunately the Senior staff at KES are fully on the ball and immediately instigated a complete bag-search. Despite the immense logistical problems, they found my laptop in the bag of one of the pupils!
My initial reaction at the loss was shock and disappointment, but realistically my faith has been restored, firstly the matter was dealt with and there are, sadly, always a few bad-apples anywhere. So all's well that end's well.

MacMillan Coffee Morning (4th Oct 2009)
On Saturday 26th September at 10.00am in The Falcon was held a coffee morning in aid of MacMillan Nurses. By 10.15am the pub was packed with villagers, friends and relations all enjoying tea, coffee and biscuits. There was also a cake stall, a tombola, a raffle and a doll's house display. The event was a great success and raised £1052.61 for MacMillan Cancer. (Although I wasn't there, I would also like to think it is yet another sign of the 'rebirth' of the village).

Google Earth (4th Oct 2009)
Recently a van has been noticed around the village which has turned out to be something to do with Google Earth taking aerial photographs of the village. This is a contentious issue, some people think it is okay where others don't. I suggest if you have any strong opinions one way or the other (and I have avoided suggesting any judgements), then please e-mail them to me and I will see if there is any concensus. If no one replies then I will be obliged to publish that no one was concerned, so if you are, please let me know.
Visitors from Canada (3rd July)

We don't very often get visitors to Withernwick from far distant parts of the world, but Hannah and Amy Moulds dropped into The Falcon on 3rd July 2009 all the way from Canada.

Of course I guess you recognise the surname, they are Mid and John's grandchildren.

It was also fun to hear accents that are even stranger than mine. They were born in Hornsea and did live in Withernwick as children, but they've obviously lived in Canada long enough to pick up the Canadian accent.
Hornsea School Prom (30th June 2009)


Obviously everyone went to a great deal of effort to look their best for the Hornsea School Year 11 prom.
The photo on the left is of Shiret and her friend Marcus. Andrea has bought the dress for Shiret, so now we will have to organise an event in Withernwick that will warrant Shiret wearing the dress again!
The photo on the right is of some of the staff at Hornsea school which I'm sure many of you will recognise. On the left is Steve Lawrence the Headmaster and in the middle is Steve Ostler one of the Deputy Heads.

Withernwick goes to Skirlington (29th June)
On Sunday 28th June, Julia, Robert, Pat and Paul all set off from Withernwick at 6.15am. We arrived at Skirlington at about 6.35pm to do a car boot sale. The purpose of the sale was to sell what was left of the bric-a-brac from the village fete. We didn't see the Sun until about midday, but we did see Keith and Janice and also Kate and Richard Poulson, so it was a real day out for the village. All went well and we made another £51 towards the RNIB and St Alban's Church. Any bric-a-brac remaining will be donated to the Hornsea Lions charity shop, so it will all eventually go to a good cause. We'd all had enough by 1.30pm and so packed up and returned to Withernwick.

Conservation Area for Withernwick (12th June 2009)
I guess we've all had the letter informing us that the Council has highlighted a need for a conservation area to be set up in Withernwick. This apparently has been approved by the Parish Council (did anyone know of this?). I have received the actual proposals, so to save everyone sending for them, I have scanned them in put them and put them on the website. I guess there are pros and cons to us being a Conservation Area, so if you would like to share any opinions put them on the Guestbook (just head them "Conservation Area" and we'll see what everyone thinks.
Here is the map of the proposed area. Click here
And you can read the full proposal by clicking here you will need to have Adobe Acrobat Reader installed to read this.
If nothing else the proposal is an interesting description of Wirthernwick and well worth a read. And also interestingly my cottage gets a particular mention, although they have spelt it wrongly, so here's a little quiz question for you - why is my cottage called Molineux Cottage?

The "Falcon Corner" (22nd May 2009)
As you probably all know I live just opposite The Falcon. Sometimes I have very scary experiences! No not Ghosts, I could cope with those but vast articulated lorries trying to negotiate the corner between my cottage and the Falcon. It looks scarier from my cottage, indeed I have had lorries within two inches of my window-sill, but if the lorry does make a misjudgment it's The Falcon that tends to get it. Here are a couple of photos to show you what I mean.
You might just notice the reflection of my cottage in the lorry window in the second photo. I have complained to the council on several occasions about imposing a weight/length restriction on lorries coming through the village but to no avail. I will try again.
To see a video of another big lorry trying to negotiate the village - click here. It did try to have a go at the Falcon corner but soon gave up, so it backed up and turned down Church Lane instead. Shouldn't lorries have different satnav's ?

Has Anyone Come Across "Withernwick Used as a Surname? (10th May)
I was recently e-mailed by a Ken Stephenson from Ontario, Canada, which amongst other things shows how the website comes up on Google now - we come second if you type in "Withernwick". Anyway I'll print his e-mail in full:
I live near London Ontario Canada. Here is my question ... have you met anyone with the Withernwick surname. My ggg grandmother was a Mary Scott of Cottingham .. who married a William Stephenson at Cottingham (just north of Hull) in 1838 ... as a family they emigrated to Canada in 1854 .. I have the boat record ... and it shows Mary and 5 of her children, plus 3 other Scott relations ... plus her sister .. Elizth Scott ... who was married to William Withernwick. This same Wm Withernwick is buried in a small country cemetery in Caradoc Township, Middlesex County Ontario ... near the town of Strathroy. The stone reads "In Memory of Wm Withernwick died Mar 12 1877 AE 69 ys 2 ms & 25 ds .. emigrated from Yorkshire England." Although her name is not on the stone .. I think Elizth his wife is likely also buried here (to my knowledge they had no children). This old stone is beside a Nicholls family stone (an Edward Nicholls married an Ann Scott)
There is a William Withernwick ... who shows up as Christened 23 Dec 1807 at Lund near Beverley ... that is likely him.
So has anyone come across the use of "Withernwick" as a surname before? The two uses must be connected. Please let us know.

Dog Pooh! (1st May 2009)
While checking out the playing fields for the village fete, we soon became aware that there is an unfortunately large amount of dog-pooh on the field. There is also dog-pooh around the village in general and most of all down "Butcher's Lane" (the footpath on the left at the end of high street).
Letting your dog pooh and not picking it up is anti-social and entirely unacceptable and also potentially dangerous, especially to children. So if your dog poohs anywhere in the village, be it Butcher's Lane, the Playing fields, anywhere please pick it up and bin it.
Everybody does need to work together to keep Withernwick as a thriving community and picking up your dog-pooh is a good way to start.

Windfarm Railroaded through by Government! (29th April 2009)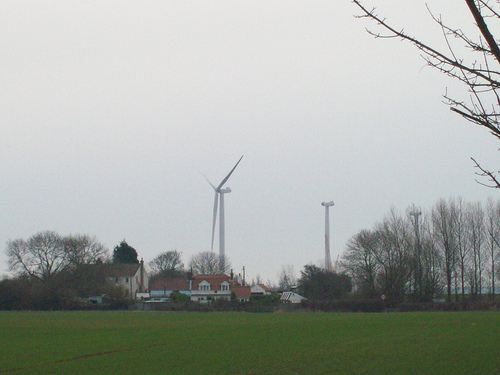 As you know I don't believe it is my place to grind personal axes, but in this case I guess most of you would gladly like to help. Yes the Withernwick Windfarm as been passed via appeal, in other words railroaded through by a Government frantically chasing its tail in order to meet EEC targets. It is indeed extremely dubious as to the effectiveness of wind-turbines, but that doesn't seem to bother the Government either. It does not now matter if you agree with them or not, this is a perfect demonstration of UK democracy in action. I have no doubt that windfarms will not be allowed in Surrey or Sussex, so this is yet another example of treating the East Riding as "the back of beyond" where the people don't matter and don't care.

Oh well, if its any consolation to most of us, I don't think you'll be able to see them from most central parts of the village, but I'm sure we do all sympathize with those in parts of the village where they will be "in your face".
Read the details of the Appeal decision - Click here

Land Wanted (23rd April 2009)
Mike and Dawn at Prospect Barn would like to buy up to ten acres of land suitable for the creation of a woodland within walking/easy cycling distance to Withernwick. Mike and Dawn are willing to pay full market value for the land, however this would be dependant on the fulfillment of specific requirements. Should you have any available land Mike and Dawn would be delighted to receive an email from you. Please email