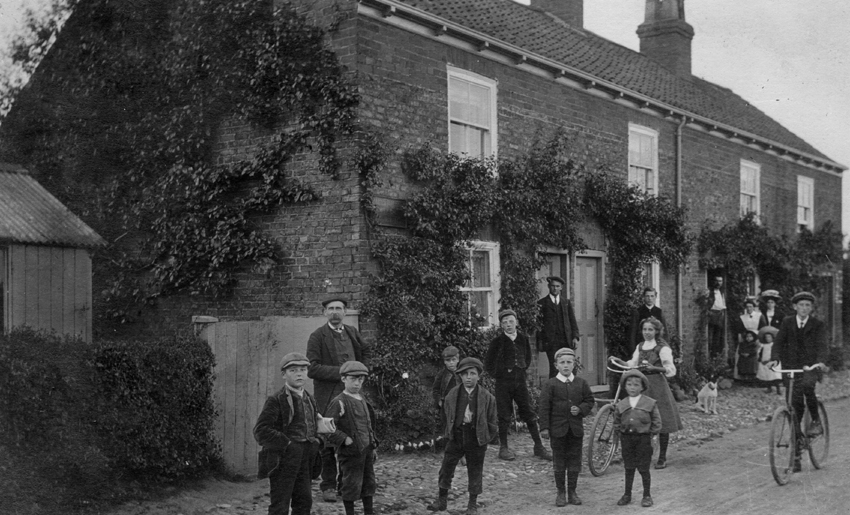 A wonderful view of Church Lane c 1911.
From previous photos and the 1911 census we can identify some of the people.
The man on the left near the gate is James Webster Harsley, the village cobbler who lived in the left hand cottage (no 4).
The man in the doorway of no 4 is probably Hubert Harlsey the son of James Webster.
The family at no 2 are the Barker family who were related to the Harsleys,
in the doorway is William, in the middle Bertha and then Lily the two children are Elsie and Thirza.
The young man on the bicycle is probably Brownie Harsley.
(For more information on the Harsleys and Barkers visit the Genealogy page.

The photo is actually from a postcard, below is the reverse side of the card.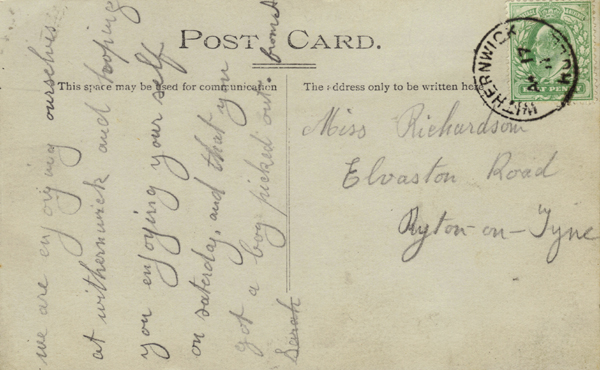 The text reads:

We are enjoying ourselves at Withernwick and hoping you are enjoying yourself on Saturday.
and that you got a bag picked out.
From Sarah.

The postmark appears to read 17th Aug 11.
We are not sure who Sarah is, she may not even be a Withernwick resident.
Sadly there are a lot of Miss Richardsons in Ryton on Tyne in 1911, so we may not be able to isolate the correct one.

Return to gallery