The will of Richard Lowson 1802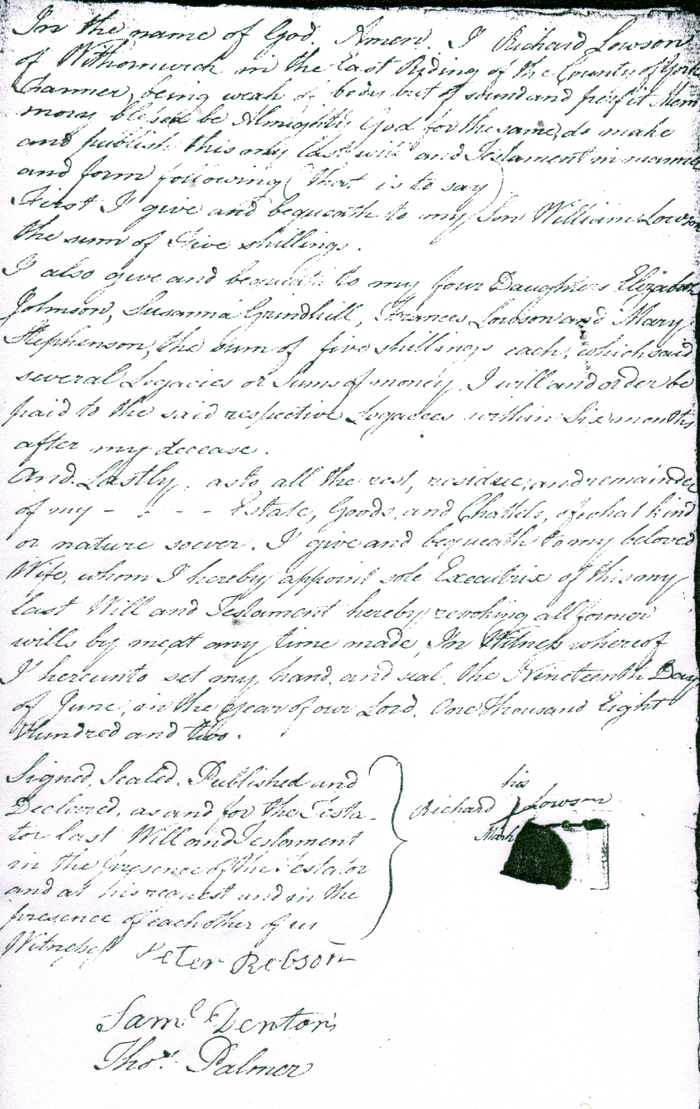 In the name of God, Amen, I Richard Lowson of Withernwick in the East Riding of the county of York. Garried, being weak of body but of sound and perfect memory, blessed be Almighty God for the same do make and publish this last will and testament in manner and form following (that is to say).
First I give and bequeath to my son William Lowson the sum of five shillings. I also give and bequeath to my four daughters, Elizabeth Johnson, Susanna Grindhill, Frances Lowson, Mary Stephenson the sum of five shillings each, which said several legacies or sums of money. I will and order be paid to the said respective legacies within six months after my decease.
And lastly as to all the rest, residue and remainder of my estate, goods and chattels of what kind or nature what so ever, I give and bequeath to my beloved wife whom I hereby appoint sole executrix of my last will and testament hereby revoking all former wills by one at any time made.
In witness whereof I hereunto to set my hand and seal the nineteenth day of June in the year of Our Lord, one thousand eight hundred and two.
Signed, sealed, published and declared as and for the stated last will and testament in the presence of the testator and his request and in the presence of each other of us:
Peter Robson
Samuel Denton
Thomas Palmer

Also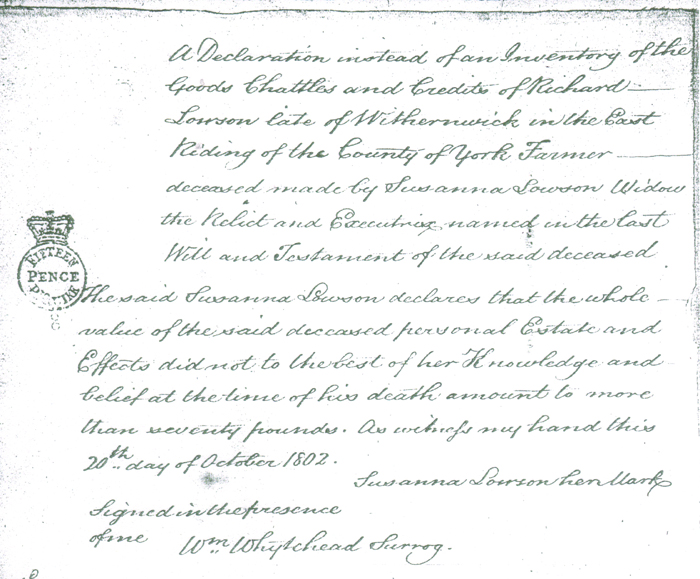 A declaration instead of an inventory of the goods, chattels and credits of Richard Lowson late of Withernwick in the East Riding of the county of York, farmer, deceased made by Susanna Lowson widow, the relict and executive named in the last will and testament of the said deceased.
The said Susanna Lowson declares that the whole value of the said deceased personal estate and effects, did not to the best of her knowledge and belief at the time of his death amount to more than seventy pounds.
As witness my hand this 20th Day of October 1802.
Susanna Lowson her mark.
In the witness of me
William Whytehead Surrog

The marriage of Richard Lowson and Susanna Hirstwaite in 1759 (Susanna was a Withernwick person, born in the village in 1737).