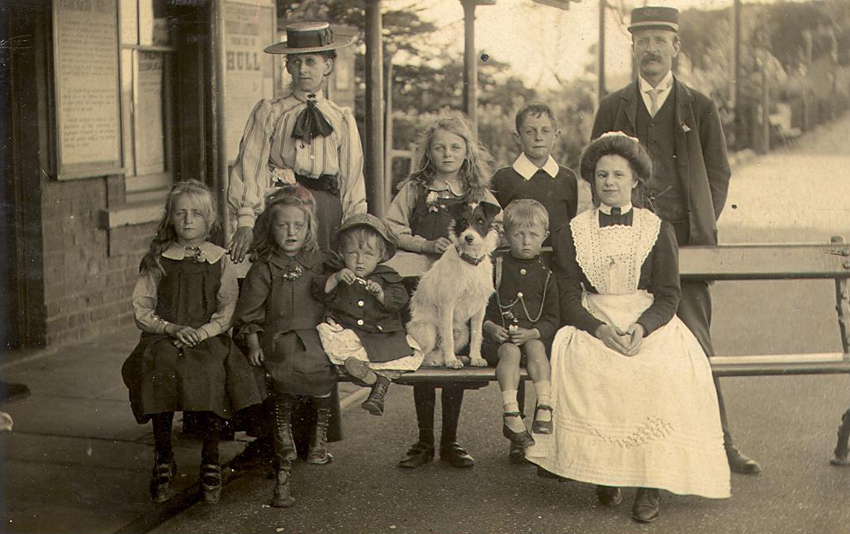 A wonderful photograph of the appropriately named Train family at Whitedale Station c 1912.
Standing: (left to right) Emma Maria (ne Sedman), Ruth, Frank, Albert Nelson (Station Master)
Seated: Muriel, Olive (John Witty's mother), Alfred Prowd, The Dog, Lewellyn, Kate Maynard Pickering (servant).

The Dog is actually Hubert Harslet's dog, Hubert worked at the station and at the time lived in Church Lane - Click here

The Train family remained in the area, you may well know Train's hairdressers in Hornsea.

Below is the 1911 census details for the Train Family, since Alfred Prowd is 1 in 1911, he is probably 2 in the photograph.
There is also another son called John who was born after the taking of this photograph.
Albert clearly moved around a lot as part of his job, it was also a family career, as his father William Train had been the
Station Master in Hornsea. Big families also ran in the Trains, Albert was one of 11.

| | | | | | | |
| --- | --- | --- | --- | --- | --- | --- |
| Name | Status | Gender | Age | Year of Birth | Profession | Place of Birth |
| Albert Nelson Train | Head | M | 41 | 1870 | Station Master | Skirlaugh |
| Emma Maria Train | Wife - Married 14 years | F | 37 | 1874 | | Whitby |
| Frank Train | Son | M | 11 | 1900 | School | Hornsea |
| Ruth Train | Daughter | F | 9 | 1902 | | Hornsea |
| Muriel Train | Daughter | F | 8 | 1903 | | Driffield |
| Olive Train | Daughter | F | 5 | 1906 | | Driffield |
| Llewellyn Train | Son | M | 4 | 1907 | | Driffield |
| Alfred Prowd Train | Son | M | 1 | 1910 | | Withernwick |
| Kate Maynard Pickering | Single Servant | F | 20 | 1891 | Domestic servant | Hull |