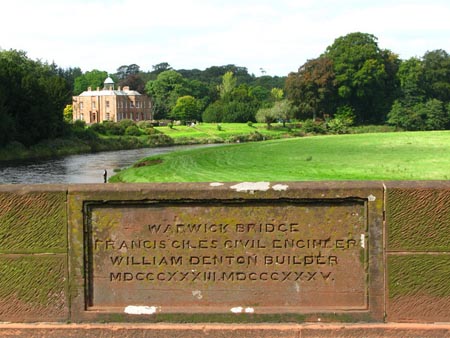 Warwick Bridge - over the River Eden, Cumbria
William Smith Denton

William Smith Denton was born in Withernwick in 1799 and was a pioneer in the earliest days of railway building in England (and in the world). Below is a brief biography from the Institute of Civil Engineers.

William Smith Denton (b 1799) was the son of Samuel and Eve Denton and was baptised on 20th January 1799 at Withernwick in the East Riding of Yorkshire. In 1821 he married Sarah (b 1798), the daugher of Paul Nixon, his partner, with whom he worked on Warwick, Alston and Irt bridges. Denton gave evidence in 1834 to the Parlimentary Committee on the London and Southampton Railway. By this time, perhaps with Nixon he was building 6 miles of the Newcastle to Carlisle Railway; its several major works included the 95 ft high viaduct over the River Eden. The fact that only his name appears on the commemorative plaques on the individual bridges would seem to indicate that Nixon was not involved, at least after 1835.
His eight children were baptised either in or near Carlisle between 1826 and 1835 but the place and date of his death have not been ascertained.

The structures he worked on:

1833 Alston Bridge
1833-1835 Warwick Bridge
1835 Bampton Grange Bridge over the River Lowther for £1030.
1836-1837 Irt Bridge
1830-1836 Newcastle to Carlisle Railway, 6 mile length of track including the Wetheral and Corby viaducts.

It seems that about 1849 he and two of his sons emigrated to America, where. They moved to Chicago and worked on the Navy Pier and canals (carrying on his civil engineering). He died in 1851 in a cholera epidemic and was buried in the city cememtery. They moved many of the graves but left anyone who had died of cholera. He is still there but has no gravestone. His wife outlived him, living to an age of 79 and being a mother of 17! Many of his 17 children moved to Clinton, Illinois. A few fought in the Civil War. One died of disease soon after moving to Illinois and one made a fortune in California (see the link below). Two carried on their father's profession building railways in the Mid West. Another became a surveyor and treasurer in South Dakota. The Denton family then had quite and interesting history, click here to read more about William Smith Denton's son Col William Denton'.

It is great to think that a Withernwick man became such a success in a rapidly developing world; he had a life far removed from those of most of the young men of the village at that time.