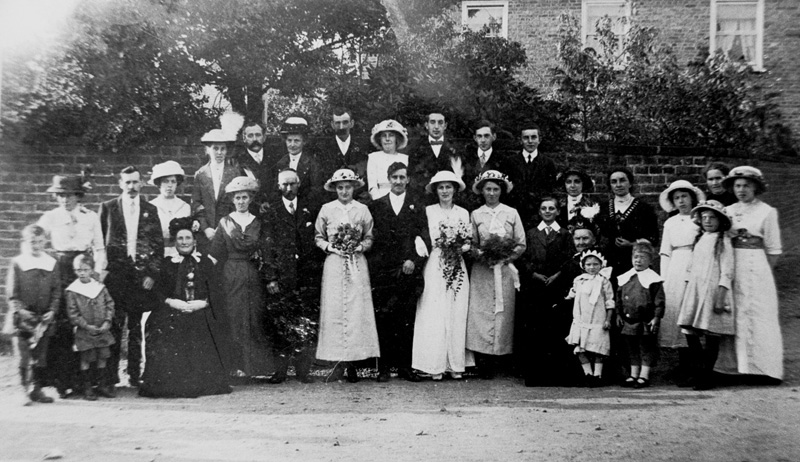 The marriage of Ernest Beeton and Christiana Kearry in 1914
(Both photos are taken on the corner of Church Lane and Main Street).
Christiana is to the right of Ernest and her father Tom is to the left of the bridesmaid , with probably Maud her mother to the left of Tom (as we look at the photo).
Probably the boy to the right of the other bridesmaid is Gerald Kearry, Christiana's brother (mentioned in the 1911 census).
Also the lady seated to the right of Gerald is Mary Ann Kearry, Christiana's grandmother, click here to see another photo of Mary Ann.
In 1911 Mary Ann is living with Harriet Powell (ne Kearry), Christiana's aunt (she will be on this photo somewhere);
Harriet Kearry is in Bulmer's 1892 directory as a dressmaker living in Withernwick, click here.
Click here to see 1901/1911 census details for various members of the family.
Click here to find out more about Tom's brother, John Robert Kearry's family (he is probably on the above photo)
Click here to see a family tree of the Kearry family.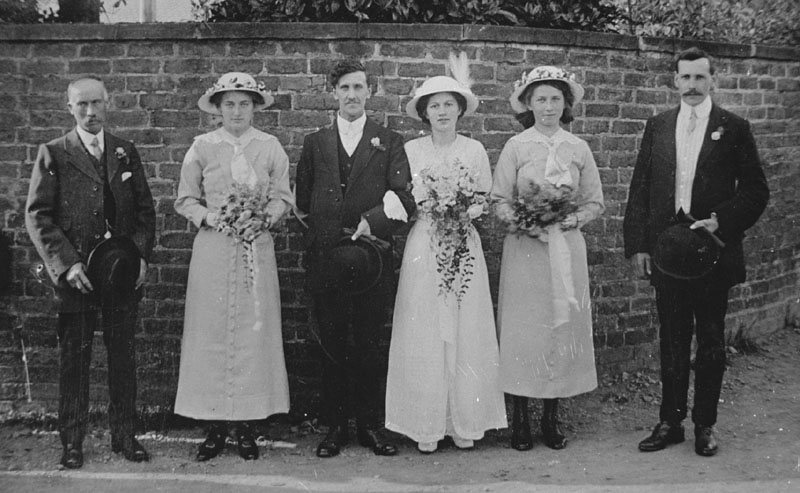 This photograph shows the more immediate family group.
On the left is Tom Kearry (Christiana's father), in the centre are Ernest and Chritiana.
The man on the right must be Ernest's father.
Click here to see the Kearry's outside their shop in Church Lane

Return to Photo Gallery