The Opening of the Rebulit Wesleyan Chapel, Main Street 1914

As the stone in the gable tells us the chapel was originally founded in 1810 but was rebuilt in 1914.
Clearly this was quite an important event.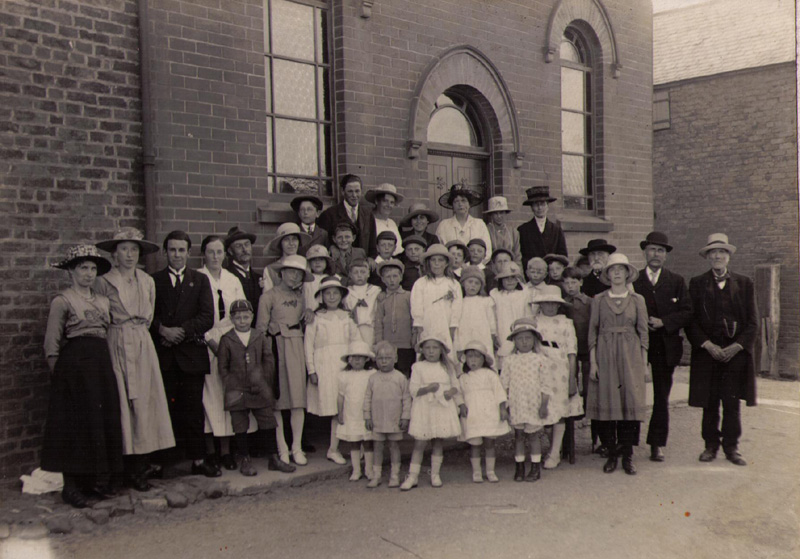 2nd from right is James Harsley, 2nd from left is Ada Tee / Harsley (nee Tee, daughter-in-law of James, not sure if she is married at this time).
Also first left is Lizzie Watson (see below), 4th from left is Gladys Wray and 6th from left is Betty Watson.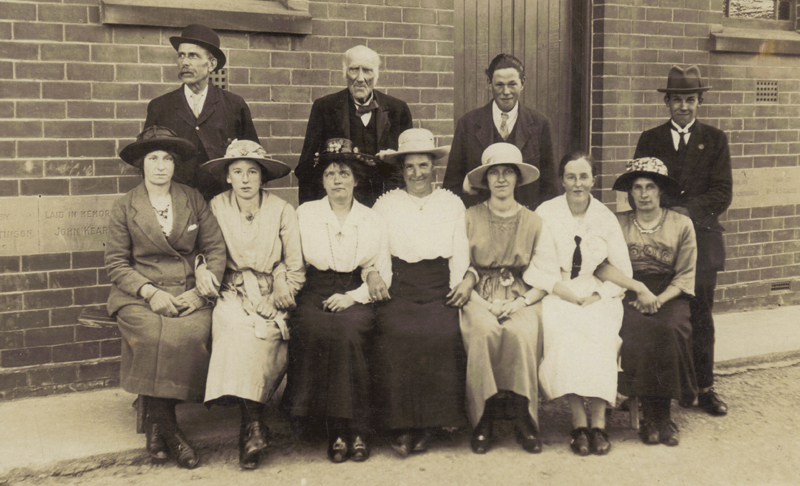 The first man on the left at the back is James Webster Harsley.
At the front from the left: 2nd is Ada Tee / Harsley, 5th is Betty Watson, 6th is Gladys Wray and 7th is Lizzie Watson.
There is a problem with the identification of Lizzie Watson, according to the 1911 census Elizabeth Ann Watson, who's
name appears on one of the foundation stones (click here), is only 8 years old, which would make her 11 by the time
of this photograph. There is no other Elizabeth or Lizzie Watson. The woman in the photo looks to be aged about 40 or so.
Therefore it may be that the woman is Lizzie's mother, Mary Ann Watson who would be 41 at the time of the photo.
In 1914 Ada Tee is 21 which looks about right, Gladys Wray is 16 which could be possible and James Harsley is 51;
so the year of 1914 is probably correct.



This view of the chapel is clearly also on the same day. It hasn't changed much, although it is no longer in use as a chapel.

The man in the middle again is James Webster Harsley, he was an important man in the running of the chapel. His name is one of those on the foundation tones around the base of the chapel.

The building on the right is part of the outbuildings of the Falcon, it is no longer there but there is evidence of it in the remaining wall.


Return to Gallery Return to Tales