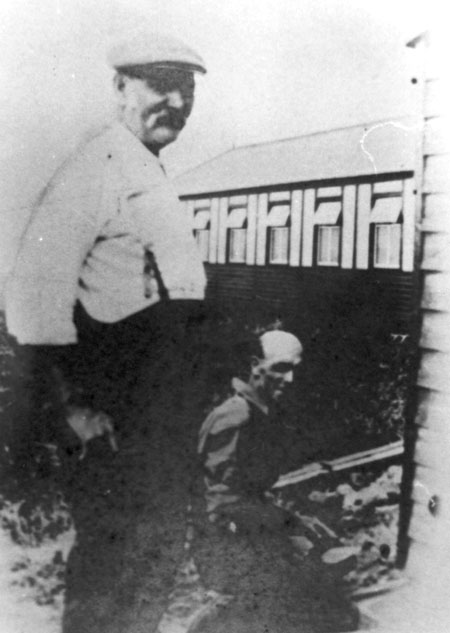 A photograph of William Dunn and his son Alan, both builders - c 1930
It looks like they are working near the village hall but it is not clear what they are doing, but the village hall was pretty well new then, so the work may be in connection with the construction of the hall.

Below are the 1911 census entries for the Dunn family, they are down as living in Beverley Road - in the "The Old White House", it does say so in the 1901 census. Alan died on 1st September 1966, aged 71. Alan's wife Hetty Dunn (nee Wright, daughter of Ernest Colton Wright, who had been the school headmaster, they married on 13th April 1936) lived there until she died on the 1st October 1983, aged 84; there are lots of photos of Hetty, click here.
For a photo of the Old White House - click here.

I am not sure if this Dunn family are related to the Dunn family that ran the Falcon.

| | | | | | | |
| --- | --- | --- | --- | --- | --- | --- |
| Name | Status | Sex | Age | Year of Birth | Profession | Place of Birth |
| William Dunn | Head | M | 39 | 1862 | Builder | Withernwick |
| Florence Dunn | Wife | F | 35 | 1866 | | Kilnsea |
| Sarah | Daughter | F | 7 | 1894 | | Withernwick |
| Alan | Son | M | 6 | 1895 | | Withernwick |
| Arthur C | Son | M | 3 | 1898 | | Witherwick |

To see how William and Alan are related to other Dunn's,
see their family tree - click here.

Return to Photo Gallery