Memories of Withernwick by Kathy Bemrose (now Collinson)

I was born on 12th April 1962 at 2 Tanton Terrace, my Dad used to work at Croft's farm at the time - click here to see photographs of myself, my sisters and brothers and my Mum. One of my happiest memories of the village was visiting the shop, in Church Lane, owned by Mr Graves. If you gave him a penny with a hole in it, he would give you your sweets and also return your penny. I think of him with particular fondness as he gave me my nickname "Little Beatle" after the fame of the Beatles in the 1960's and the way I had my hair cut at the time; my Dad and close family still call me this nickname to this day.
We used to regularly attend the Sunday School and there we learnt rhymes that I have in turn taught to my children and now my grandsons.
I remember Christine, my sister, and I being taken to stay with Mrs Twidale when my Mum, Ada Bemrose, was ill. We used to sit playing all afternoon until teatime when Mrs Twidale went to make the tea; I managed to convince Christine that Mrs Twidale was a witch with a cauldren and that she was going to cook us and have us for tea, we became so scared that we ran all the way home as fast as we could! We ended up living with my Dad's brother and wife in North Frodingham until my Mum was well. We then moved to Arnold, but still visited the village as my Mum's sister Shirley Harland and family lived in High Street.
My Mum, Ada, was the oldest one of six, she now lives in Hornsea. My grandparents, Lily and Fred Thrower, lived in Whitedale Cottages. Amelia, the youngest of my Mum's sisters, by 20 years, still lives in Cowden Lane, most people know her as Ann Barker.
We used to visit my grandparents, we used to get the bus from Withernwick to Whitedale, the highlight was collecting the cardboard bus tickets.

******************************************************************************************************************************

Memories of Withernwick by Brenda Smith

I lived in Withernwick from 1956 to 1964, we were the family from Hull and lived in Spetch Cottage near the telephone box, opposite Church Lane. I remember going to Mrs Cherry's birthday party held in the garden of Jennifer Athey, they lived down a long drive opposite the Hewson's Vicarage, her father was a dentist in Hull. I worked at Walgate's Farm taking milk out every morning with tin jugs, freezing in winter, I also picked potatoes and helped Mrs Walgate cleaning and gathered eggs and washed them, all for 2/6 a week but she did give me an egg and a bun. I remember her daughter Pat coming from New Zealand and she made me a peach melba something I had never had before. Louise Dunn bought me for Christmas one year a beautiful comb and case she also played the piano very well and gave lessons I believe. The Cardwells lived in the bungalow opposite the WI Hut, they came from Hull and were friends of my father's (Wilfred Smith), my father use to go in the Falcon pub and knew more people than we did. My sister Jean introduced Barry Ireland to his wife Mary I think her name was. Mrs Ireland made the best chocolate cake I have ever tasted. I have read all the memories of Withernwick and there is not a mention of the Smiths (put right now), Athey's or Cardwells, I don't think they really accepted outsiders as they always referred to us as Hullites. I have a lovely photo of Mrs Cherry taken with quite a few more people, such as Elizabeth Stamford, Ann Harsley, Alice Jenkins, Chris Simpkins, David Croft, and quite a few more. I have many happy memories of Withernwick.

******************************************************************************************************************************

Falcon circa 1959 by Terry Ireland
Late last year I had a pint with John Witty, not seen for over 40 years, and a chat with Pip Gibbons in the very nicely refurbished Falcon. The pint was good, the service excellent, and behind the bar Mine Host, following in the line of his Uncle Brian and Aunt Joan, and his Grandfather John Fisher.
I couldn't help thinking about the pub as it was in his day. No plush lounge like today; no eatery and no inside toilets. Still a door from Main Street into the bar, or you could stand in the vestibule there and knock on the hatch for a takeout – in my day bottles but not so many years before jugs of draught beer, or packets of crisps for us kids. Coming in from yard by the back door you could turn left into the front room, or right into the wood panelled back room. Just tables and chairs, and the Bar Billiards table ( on which I as a 14 year old was allowed to play with my brother and drink a single pint of shandy – known in the village in those days as a Smiler). There was no bar in that room; you either went through to the front or knocked on the wall and waited for John to come and take your order. Mrs Fisher, a very well respected lady, brooked no bad language or unseemly behaviour when she was in attendance, and while she was there no body would dream of anything other than behaving. With John in attendance on week nights there was such a quiet air as pints were enjoyed after long working days. And if the domino school was in operation there could be a bit of a wait for a drink if he was playing in it. This was quite well accepted as there never seemed any hurry those days – you took your turn and your drink as and when it came. The ludicrous situation was closing time, either 10 0r 10.30pm, I can't remember which it was. You could order and receive a drink right up to closing time, but one second past and you were drinking illegally and liable to the threat of PC Patsy Fagan or his replacement making their rounds and checking. No such thing as drinking up time then, and when it did come in it was only quarter of an hour. I remember coming home on my first leave and feeling proud as punch when the first drink was on John. I'd only been away from the village eight weeks but was suddenly grown up. In time John and Amy retired: Brian and Joan took over and I came home on leave to a very different Falcon, more in keeping with the times (which is another story).
Standing there last year with John I thought how good it was, but I still had lots of memories and pleasant thoughts of the old Falcon, of the Bullock in the bar, and when Peter Brown, brought his Hunter in with him one Christmas, and ex groom landlord John not batting an eyelid.

******************************************************************************************************************************

'Recent' memories of the village - by Margaret Fawcett

Alan and I have lived in Withernwick, we moved into Lynton House (formerly Ellis's shop) on the 3rd April 1985 so this year have had our 25th anniversary! We moved from Burton Pidsea but prior to that I had lived in Roos with my late parents and Alan was born and brought up on a smallholding in the Pennines near to Halifax. He came to stay with a farming family in Tunstall for a holiday in 1969, started working for them and never went back except to visit family etc.
There was much more of a community in those days which it would be lovely to recreate, as indeed efforts are being made to do so with the Community Association. The shop and post office were still open and of course there was the butcher's still run by Stuart Voase's late father Adrian. Also twice a week the late Jack Fryer (who lived at Chantenay on Main Street (still occupied by his widow Doreen) brought his fruit and veg van into the village. Saturday morning was a hive of activity with people going to the butcher's, the shop and post office and Jack's van for their weekly fruit and veg. It was a time for people to catch up and stand and have a natter. Also the Methodist Chapel still held services and had quite a good attendance, mostly older people, many of whom sadly have either passed on or left the village, hence the inevitably closure. The village seemed much busier in those days, especially with the school still open, as the children were much more in evidence in the village. Of course now that they are spread over different schools in other villages it is difficult for them to get to know each other. The village hall was in much more use also, with the Parish Council meetings held there, weekly Movement to Music sessions, Ladies' Group, etc. There were also occasional dances and barbeques. There were a lot more horses in the village at that time and it was commonplace, especially in the summer, to see people riding out. A special friend I made was Delia Hoe (who was married to Charlie (Chuck) Hoe) who lived at Omega Cottage. We rode out regularly together and with my daughter Kate went to many shows and cross country events. We are still great friends even though she moved to Wales at the end of the 1980s. Wilf Skelton, the blacksmith, and his wife were still alive and living at Forge Cottage although he was retired and no longer shoeing horses.
We always had nice neighbours at Lynton House, especially Ethel Jennison (ne Carr) who lived at Spetch Cottage. She had lived in the village all her life and was a mine of information. She passed on about 2003, aged 92, but was as bright as a button with an excellent memory right to the end. We, especially Alan, spent many hours chatting to her over the years and I still have growing in my garden a Peony rose and a bed of Lily of the Valley which came from her garden. She gave me them a long time ago and I brought them with me to the new bungalow.
Alan and I knew no one in the village when we moved here although Alan had been a visitor to the Falcon. The annual clay shoot followed by the auction in the pub were always a regular Holderness event and all the Holderness villages seem to have connections of some sort. I remember the blacksmith at Roos who shod my pony when I was a girl knew Wilf Skelton, and my late father (who died in 1969) was a fairly frequent visitor to the Falcon with his pal Alan Foster, the butcher at Roos to drink with Adrian Voase, butcher in Withernwick - pre breathalyser days - I dread to think what state they drove back to Roos in some nights!

************************************************************************************************************

The History of the Day, Burrell and Nightingale families - by Anne Peck (ne Little)

I have some history you may find interesting, it is really some of my family history.
My family through the maternal line were resident in Withernwick untill my mother Kathleen Little nee Burrell (click here to see a photo of her as a young girls) died in November 1992. There is a tombstone of my ancestors John and Ann Day dated 1762/3 in St Albans church yard. They are my direct line grandparents and my family line continued on the maternal side through the Day and Nightingale and Burrell families. All except my mother are buried in the church yard.
My Great Great Grandfather Daniel Day was head gardener at Burton Constable Hall and used to walk to and from work every day. In good weather he would walk through Lambeths over Straites bridge but I think when Lambeths flooded he would have to go by the road as the bridge can be dangerous when the stream is in flood.
My great grandfather Alfred Nightingale was, among other things, the sexton for St Albans.
My Grandmother Harriet Nightingale (click here to see a photo of her as a young girl) married Harold Burrell. Harold was present at the dedication of the war memorial, click here to see a photograph of him on that day.
My grandfather on that day was awarded the French Croix de Guerre with silver star for bravery on the battlefield. He was a battery sergeant major in the Royal Horse and Royal Field Artillery and won his medals for keeping his gun supplied with ammunition whilst under heavy bombardment. He also was awarded the British Military Medal.
I grew up in Withernwick and lived in Ivy Cottage opposite Willow Farm. My friends included Mirrie Ellis now Moulds and her sister Beryl.
I was married in St Albans church and we lived at Great Hatfield for thity four years. Our daughters Helen and Caroline went to school in Hornsea and were friends with John and Julie Sherman, and our sons Charlie and Julian were friends with Antony and Chris Moulds.
We have not unfortunately, been in the Falcon for many years as we moved to Sharnbrook in Bedfordshire in 1994. Perhaps we will call in sometime when we are over there.

Click here to take you to the family history indes where you will find lots of links to photographs of more Burrell's including Ralph, Raymond and Kathleen.

************************************************************************************************************

Cricket in the late 19th & early 20th Centuries - by Paul Boyle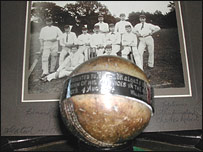 It seems that the locals in the late 19th and early 20th centuries were a very sporting bunch. In particular their sport was cricket. I started looking into this when Stewart Would sent be a photo of a cricket team where some of the men were from Withernwick - click here. By looking at census entries I was able to date the photo to about 1905, it includes Ernest Colton Wright, the headmaster of Withernwick school who seems to be the most photographed person in Withernwick in that period. Then, by accident, I came across an article on the BBC website about a cricket match that took place in the grounds of Rise Hall in 1884 that was remarkable because one of the sides consisted of 11 brothers from the Walgate family. The Walgate family lived and worked at Westhill on the border of Aldbrough and Withernwick. One of the brothers, James O Walgate also appears on the 1905 photograph. This all paints a very interesting picture of life at that time, the nostalgic vision of a cricket match one sunny summer afternoon. It also shows that people got around a lot more than we might think; the 1905 team was not just from Withernwick and the 1884 Walgate team got from Westhill to Rise. I am sure various means of transport were used, maybe bicycles for the team of 1905 but more likely a farmyard horse and cart for the 1884 team.
The above photo shows the 1884 Walgate family team and the ball awarded to the man of the match John G Walgate. Click here to read the BBC article about the 1884 match.

******************************************************************************************************************************

Tom Ireland - by Terry Ireland

Click here to see a photo of Tom and click here to see him in the Home Guard

My dad, Tom was born in 1910 in Swine, and moved to Withernwick on marriage, where mother (Mabel Barker) lived. I think they married 1929 though not sure, but in Withernwick Church. Originally they lived in what is now Pip Gibbon's house where my brother was born. Sometime before 1943 they moved to the end house, where I was born - click here to see the house and photo of Mabel.
He was a farm labourer, working on various farms in the village. The first I remember was Arthur and Alwyn Fisher, at Glebe Farm (click to see them), then a various times Crofts, Cox's ( who took over fromn Walgate's, at Willow Farm). He also worked part time for David Smart who took over from the Fisher's. His last farm job was for the Clappison's ( Phillip Clappisons dad, at North End Farm - click here to see the farm).
Finally he got a job with Earthworks landscape gardening firm and more that tripled his wages. He was riding home from a job in Hornsea in 1973 when he had an accident and broke both his legs. It was then that they told us he had terminal lung cancer, though in those days they didn't tell him- this was in April. he was given 6 weeks to live but hung on until 31st December 1973. Her never gave up on life, and the day before he died he burnt a few holes in his hospital sheets at Hornsea Cottage, having hand rolled a cigarette then dozed off with it in his hand.
He was a very keen gardner, and had allotments at the top of Church Lane. Looking down the lane, from the Sunday School towards the Church was all allotments on the left all the way to Fentons farm. He also loved shooting with his 12 Bore, mainly down Lambwaths where we had permission to shoot in various field. He was a crack shot, seldom missing.
He was put in for his tractor driving test by Mr Cox, and failed on eyesight, which he said was rubbish and refused to accept. The next Saturady night out shooting he shot at what he thought were two geese, and brought down two swans - remember this was a dark night. This made him accept that he did need glasses, if he couldn't tell flying swans from geese. He got the glasses, passed his test, and never shot without them again.
To supplement farm wages he worked part time as a chimney sweep in the evenings, sometimes biking as far as Ganstead - this after a days work on the farm. He also acted as village grave digger, mowed the churchyard with a scythe, and tidied and kept the paths clear. This job also included lighting the furnace in the church to heat it for winter services. He also cut and laid various hedges around the village
He was a very quiet man, seldom spoke until he had anything to say, and just loved his country life. He would spend hours in the garden tending his flowers, and in his later years had a green house for his tomatoes. One year he grew his own tobacco and cured it, but it was so foul even he couldn't smoke it.
We were all with him when died peacfully in his sleep. He was not unusual, just a man of his time. A typical Withernwick man, and believe me that is a compliment.

************************************************************************************************************************************************

The Tanton family of Tanton Terrace - Withernwick - by Nick Tanton (now of Hornsea)
James Tanton (1808-1862) arrived in Withernwick around 1843. James was born at Rise, a son of my great-great-great grandfather William, who was a tenant farmer there. William's father was Valentine Tanton, who took the tenancy of what became Middle Farm, Little Hatfield, possibly as early as 1756. The landowner was John Greame of Sewerby Hall. In 1841 James was himself at Sewerby Hall, a servant in the employ of John Greame's successor, Yarburgh Greame. A document survives which records James's appointment as gamekeeper over the estates of Yarburgh Greame in 1842. James married a Sewerby girl, Jane Hodgson (1817-1900), that same year, but by 1843 they were living in Withernwick, where their first child was born. The 1851 and 1861 censuses recorded James and his family in Withernwick, and his occupation as an agricultural labourer. Following his death, his widow Jane remained in Withernwick until her death in 1900. Tanton Terrace we must presume was named after them or owned by them, but I know no more. The 1901 census noted four families at Nos. 1-4 Tanton Terrace, while the surviving Tantons (Francis, Elizabeth and Edith) were living next door, at "New Tanton Terrace".
Altogether there were four children from the marriage, all born in Withernwick - Elizabeth (1843-1914), Sarah Ann (1845-1927), Francis (1848-1933), and Mary Jane (1854-1855). Francis never married, and was variously described as a joiner and/or wheelwright in most census returns. However in 1891 he was farming in Mappleton, along with his sister Elizabeth and niece Edith. Edith was the daughter of Elizabeth and probably Charles Fox, a cordwainer and Withernwick native born in 1842. Edith Tanton never married. All the Tantons are buried in Withernwick churchyard. Sarah Ann, the other daughter who survived to adulthood, married John Oman (1832-1904), a miller and farmer of 20 acres. John was a Withernwick man, son of the village miller John Oman (originally from Hunmanby) and Martha Holliday from Withernwick. There was one child, William, who I believe was also a miller.

In the Withernwick entry for Bulmer's 1892 Directory, the following people were listed as officials for the "Withernwick Polling District Conservative Association": W.E. Coates (treasurer), J. Midgeley (secretary), R. Taylor (vice-chairman) and G. Tanton (chairman). "G. Tanton" was my great-grandfather George, the son of John Tanton of Little Hatfield and nephew of James above. George, a farmer and auctioneer, was a man with varied local interests which extended to his involvement with the Withernwick Athletic Sports, noted in the report below (1890s?, no precise date unfortunately).
(The italics are for emphasis and not mine).
"The second annual Athletic Sports were held at Withernwick on Wednesday evening. The attendance was not so good as last year on account of a drizzling rain. There was a larger entry than last year and if the weather had been favourable it would have been a record year. We have no doubt this will become a special place for sports, there being a good field, and in such a centre and also under such distinguished patronage as that of Commander Bethell, M.P., Mr Arthur Wilson, Mr C.H. Wilson, M.P., Mr W. Bethell, Dr Johns, Dr Hodson, Mr J.W. Halden, Mr G. Tanton, and Mr H. Whittick. The president being Mr J.C. Wright, and vice-Robson, A. Giles, and A. Dibnah; handicappers, Mr L. Clubley; for local events, Messrs Botham and Dibnah; starter, Mr D. Whitworth; judges, Messrs Walgate and S. Johnson; hon. sec., Mr F. Dunn. The events were as follows:-
150 yards handicap.- 1, H Jackson , Riston: 2. A Billaney, Arnold : 3, W N Rotsea, Withernwick.
120 yards handicap (open),- 1st heat: A W Baxter, Hull ; 2nd heat: J Brocklebank, Hull ; 3rd heat: J A Nutt, Hull ; 4th heat: H P Silvester, Hull ; 5th heat: R S Brown, Hull ; 6th heat: T S Giddy, Hull .
200 yards handicap, farm servants: 1st heat, A Gray, Skirlaugh; 2nd heat, W Fisher, Withernwick, 3rd heat, R Dawson , Rise.
120 yards handicap final: 1, R S Brown, Hull ; 2, T S Giddy, Hull ; 3, A R Baxter, Hull .
440 yards handicap, open: 1st heat, T Tennison, Hessle; 2nd heat, R S Brown, HAC; 3rd heat, J A Nutt, HAC; 4th heat, A Carr, Hull; 5th heat, F C Wingham, Hull.
200 yards handicap, final: W Bates, Withernwick. (Did the reporter mean W Fisher?)
At the close Mr G. Tanton proposed a vote of thanks to the committee and to all who had assisted in the sports. Mr Walgate, of Rise, presented the prizes to the winners. The band of the 1st E.R.Y.V.A. (Hornsea), by permission of the Commanding Officer, played selections under the able conductorship of Bandmaster L. Welch."

George Tanton's sister Elizabeth married Withernwick-born John Tiplady (c.1835-1902), who was to become a detective in the Hull Police Force. In 1891 he was living on Wycliffe Road , Hull , giving rise to the recently-created but wholly unfounded family rumour that the fictional detective Wycliffe was based on him.

Return to History

*************************************************************************************************************************************************

The Warcup Family - by Kevin Warcup

It's been a few years since I last visited Withernwick, no real tales to tell you I am afraid although I looked at your website last night and noticed the names on the war memorial and a few of them come up in the Warcup family. Dunn family, Bathsheba Warcup born 1830 married in to the Dunn Family. Mainprize also comes up in a leg of the Warcup family but at this moment I can't remember how, I think a Mainprize lady married a Warcup male.
My great, great, great grandfather John Warkup is buried in the church yard in Withernwick (click here to see a photo of his headstone); just to the left of the gates as you go in to the yard. From what I have found John married Ann Hewson around 1820, 21, 22, as the first child I have found for them was my great, great grandfather George Warcup who was born in 1823. I believe John was from Burton Pidsea. Click here to see census details from 1841/1851 for the Warkup / Warcup family; while in Withernwick they lived in North End.
I don't know if you know of the Warcup haulage company (click on the link) at Garton on the Wolds (Clive Warcup) well again that leg of the family originate from John Warkup buried in Withernwick, his son John Junior born 1829 started that part of the family.
I think you mention the Witty family on your site; this name also comes up in the family. One of the most significant members that I have found is James Albert Warcup who was awarded the following Awards:Distinguished Conduct Medal, British Empire Medal, and Mentioned in Despatches during World War 2. You can read about him at the link below.

http://www.pegasusarchive.org/normandy/james_albert_warcup.htm
James is a descendant of my great, great grandfather George Warcup born 1823 in Withernwick.
George went on to move to Skirlaugh were he started his family he then moved to Market Weighton and for a while ran a boarding house, some of the family then moved on to as far away as Halifax in West Yorkshire but then returned and settled in Shiptonthorpe & Londesborough, George went on to live in North Cave and then finally Beverley before dying in 1887. We have had a strong presence in the Market Weighton, Pocklington area for over the last 130 years or so, and the family is now all over the East Riding. We have travelled and now have members of the family in the USA and Australia and New Zealand.
Typically the family were like so many in this area, agricultural labourers, I now know I have many relatives in Hull and across the area although many are not aware of me. The good thing is making contact with people who bring stories of the family members; the overriding factor seems to be that the older members of the Warcup family never seemed to talk about other members.

************************************************************************************************************

Mischief Night and Bonfire Night - by Terry Ireland
Mischief Night, in my day would start with a gathering at the bus shelter on Main Street, both boys and girls, just talking as kids do, until some sort of action would-be decided on. Nothing vicious, knocking on doors and running away, tying farm gates shut, or even swopping garden gates around. Pretty harmless, particularly as all the inhabitants stayed diplomatically out of the way, and most probably could have identified every kid's voice. Field gates were never moved because of the animals, but a small garden gate replacing that at Forrester's Hall looked strange, while its big gate stood propped in place elsewhere. Of course the village dignitaries got their share of a few bangers outside their houses as well
Of course there was the odd problem, like the year my big brother and his mates put a few too many bangers around crossroads sign and blew it just a bit askew, causing a visit around the village the next day by strict voiced, unsmiling PC Fagan who gave a good talking to all he met. A few years later I hurled a banger under an approaching car, only to realise it was himself, and received an on the spot dressing down and a clip on the ear, plus one from my dad when he found out. Somehow parents always found out. By nine o'clock at the latest the streets were quiet and clear again as the younger ones went home, and maybe some of the older ones stayed chatting in the bus shelter for a few minutes moiré
Maybe a week or so before Bonfire Night the older boys would be scavenging the village for the village fire, which somehow seemed to be in a different field every year, maybe by crossroads, or Aldborough Road near the school, or even a little further, up towards Whitedale. The few days before the Guy would be paraded around the village and pennies collected for fireworks.
It always seemed to be a huge event with the whole village attending the lighting at maybe 7pm ish, and always the size of a good straw stack with its doomed Guy on top. The girls would be with the girls, the boys with the boys, and the ritual screaming and running as bangers and jumping crackers were thrown in the general female direction. I never remember anyone being hurt, or burned or any firework accidents. It was just Bonfire night with all our bangers and crackers and the big hot fire. And there was always a parent there on hand to keep control and administer a swift punishment if deemed necessary. Afterwards, back on Church Lane we and some of the other families would come out and let off their own . Not a street party you understand, each family on its own, but watching and enjoying the others as well. A kind of sharing really, and probably it went on all over the village.
************************************************************************************************************

The Harsley Family - by Rosemarie O'Connor (nee Harsley)

My name is Rosemarie O'Connor ( nee Harsley ) and live near Frankfurt, Germany. I was born in 2, High Street (where Arthur Young now lives ) and lived in Withernwick until I was 19 before moving to Nottingham.
My great-great grandparents were Samuel and Jane Harsley and they had 14 children ( see copy of a page from the bible listing all the children ! Click here) Their 5th child was James Webster Harsley born in 1863. He was a superintendent at the Wesleyan Methodist Chapel - his name is on a plaque outside the chapel. He also regularly played the organ for services. (see photo outside chapel (Click here) - James Harsley is 2nd from right, my grandma Ada Harsley (nee Tee) 2nd from left, Gladys Wray 4th from left and Betty Watson 6th from left) The Harsleys were regular chapel-goers. My sister and I attended the Sunday School where the teacher was Mrs Pawson and I can well remember how the chapel was always full for the annual Anniversary - some people even standing outside- we all wore our "best clothes " and had something to read out or sing . We also took part in an annual Eisteddfod held in the Congregational church in Hornsea where we always seemed to win lots of certificates.
James had 3 sons - Hubert, Walter and Stanley Hobson ( See photo (Click here) of Stanley in army uniform) I think they lived in Church Lane in Fenton's house. Stanley Hobson was killed in France in 1916 (newspaper cutting of his funeral in 1916, on same link as his photo) and his name is on the war memorial. James left the sons some money when he died and with this Walter bought White House at North End and Hubert a bungalow at Whitedale. Walter was a farm labourer and worked at Hall Farm.
Hubert (Click here to see Hubert and his garden) had 3 sons - Cedric who had 2 daughters Anne and Janet, Roland who had 3 daughters Joan, Margaret and Jennifer and Stanley who had a son Michael and a daughter. Walter had a son Sidney ( who had two daughters Rosemarie and Carroll) and a daughter Stella who was never married - Stella had one daughter Eilleen, but unfortunately later died at child birth giving birth to twins. (see school photo - Click here - with Sidney top row 2nd left and Phillip Clappison 2nd row from top 1st right)
My mother Rösle ( also called Rosie or Rosina ) Ott was born in Germany and when she was 14 (1929) she came to live with her uncle Frederich and aunt Clara Ott at North End above White House (Click Here). Frederich Ott had come to Bradford England when he was 17 and there trained as a butcher. He married Clara and lived on a small holding with a few pigs and goats and had fields at North End. He also had a butcher's shop on Holderness Road in Hull, but it was bombed in WW2. My mother was interned on the Isle of Man and in 1941 returned to Withernwick to marry "the boy down the road" Sidney in 1946. She became British through marriage.
At first we lived at 2 High street, but later when my grandad Walter died we swopped houses with my grandma and went to live in White House, North End. I can remember the move very well as we had no car and moved all our belongings with horse and cart. My father worked at Clappison's first, then trained at Bert Talbot's in Hornsea repairing bicycles and later went to work for the British Railways in Swine. He chose the railways because he could get free passes on the trains and travel regularly to Germany with my mother. We spent many happy holidays with the relatives in Germany.

************************************************************************************************************

Shoeing Horses and Hooping Cart Wheels in the 1950's - by Terry Ireland

The blacksmith's shop is the small building off Chruch Lane, the entrance to the yard is just by the steps to the church. 'Uncle' Wilf was Wilf Skelton.
Up to, at the latest the mid 1950's there were still some cart horses on farms. One of my great joys as a youngster was watching them being shod. They would plod plod across the yard, through the forge door, and be tied to the ring in the wall. There these beautiful placid creatures would stand, mostly blinkered to stop sparks etc startling them, until Uncle Wilf was ready.
He would lift up a huge foreleg, tuck it between his knees and rip off the old shoe. The hoof would then be trimmed, smoothed with a rasp, and the hot shoe put in place. The smell of the nail was acrid as the shoe burnt its bed. The shoe would then be taken off, a further final fine trim to the hoof, and the shoe put back in place.
Sometimes I would be allowed to stand next to my Uncle and hand him each shoe nail. Each was quickly hammered into place, the protruding end nipped off, and on to the next one. Imagine this process on each foot until the shoeing was finished. It became hard work when sometimes they would fret and move their legs sharply; on one occasion I remember Uncle being tipped on his rear end. Most times they would behave impeccably and get a pat on the shoulder as they were led out.
For a while, after the Shires had all but gone from the farms, Uncle still shod hunters. A far different proposition. Most times they would be ridden into the yard by their owner. Strong, fast, highly strung these at times would be trouble just to tie up, let alone shoe. I was never allowed near them. Uncle seldom swore, and nothing strong, but most times he did it was with Hunters. I remember once one pulled him over, stamped and just missing his face knocked off his glasses and broke one lens. I think it was soon after this he stopped that line of work.
There were other activities in the old blacksmiths yard. In the yard there used to be a cast iron circular metal plate with a hole in the middle. This hole was about 18 ins deep, and the plate was solid, thick metal. In the days prior to the mid 50's this played a significant part in the agricultural life of the village. Imagine the days of horse drawn farm wagons with large wooden spoked wheels, each wheel having an iron ring or hoop around its circumference to stop wear. You could hear them coming from quite a distance in the then fairly quiet village. The metal plate was the hooping ring, and hooping day occurred once a year, lasted all day, and must have been really hard work. A ring of braziers was set around the edge of the metal plate and set ablaze. The cart wheel was set on the plate with its hub in the central hole so that the wheel rested on the plate. The new metal hoop was placed in the fires to heat up and expand, when hot enough it was then manhandled with special tongs onto the wheel and quenched to shrink quickly back to size and ensure a tight fit without damaging the wheel. I remember Uncle Wilf had two apprentices, Frank Bullock, and Owen Fisher ( I last spoke to him 2 years ago, living in Aldborough), and the three of them sweated and worked for hours to do all the work in that one day.
Basically that was it. I didn't see many Hooping Days because rubber tyred wheels quickly came in making the process redundant, but for a short time of my life and for probably many years before that metal plate was probably worth its weight in gold. I wonder if it is still there.
What would modern Health and Safety rules say about a young child, maybe 5 or 6, wandering around in such a place? I have said many times being a child at that time in a village like Withernwick was a great privilege, and living next to the Blacksmiths was an even greater one for me.
************************************************************************************************************
The Lambwath Stream and Fields - by Terry Ireland

I don't know what significance Lambwaths plays in the village life these days (dog walking), but in the 50's and early 60's, my teenage days they were quite significant. If only for a solitary walk to get away from things, they were so quiet and green and peaceful. More often in the school summer holidays it was maybe 10 – 12 of us down there playing hide and seek, floating boats form Straits Bridge, or just sun bathing. Quite often there would be pea or bean fields to snack from, and often the cracks of crow bangers going off at intervals to scare the birds. We spend hours down there until hunger drove us home to eat.
The year of Mixi (Myxomatosis) was a bit of a nightmare with hundreds of rabbits lying around dying in the most horrible way. Even the dogs wouldn't go near them. I remember one afternoon 5 or 6 of us with air rifles just putting them out of their misery. Lambwaths was not so popular that year. The next year there lots of small white bones there.
Those fields bring back so many more memories of my dad and brother. Every winter they flooded either side of the stream and we would be down there from maybe 9pm until midnight, standing up to our knees in the water waiting for the mallard to come in. You would hear them whistling in and splash down. I carried a .410 in those days and before I could aim dad or Barry would have shot and probably killed. This wasn't shooting for sport, this was shooting to eat. A farm labourer wasn't well paid and stogie or duck was good food. Sometimes the odd pheasant or partridge would be taken, but we did't talk about that. Poaching was illegal wasn't it, but we did have permission to shoot duck there.
I must go for a walk down there again soon. The last time was in the early 70's. Time I went back I think.

************************************************************************************************************

Village Tennis c1955-1960 - by Terry Ireland
In the mid fifties Jack Fell had a tennis court on his front lawn which he used to allow the village kids to play on (his farm is Homer House on Aldbrough Road). Every night and Saturdays his garden would be full of us ypungsters queuing up to play. His court became quite a social gathering place. I think finally there were so many of us, and it must have been very noisy, but he didn't send us away or stop us playing, he just fenced off part of the next field, supplied all the equipment and told us to make our own new court. Everybody knuckled down and in no time it was up and running and was in constant use for at least two years. I think as we got older tennis fell off the menu. Not sure whether the younger kids continued using it but the last time I saw it was all overgrown, and I'm sure it has long since disappeared. This outburst of co-operative enterprise is just the sort of community spirit that was in the village in those days. Everybody seemed to take for granted the family aspect of the village and the need to allow chidren to explore and play. It was a safe and really wonderful place to grow up in. I wonder if this sort of spontaneous generosity happens anywhere these days.

Something else I'm sure some of you remember, let me know. Also, I think we can make Withernwick a bit like this again, I know many of us are trying to do just that.

************************************************************************************************************
The Clay Pigeon Shoot - by John Witty
In the early 1980's we used to have a clay pigeon shoot, it took place down Whitedale Road in Jack Cox's grass field. Mr and Mrs Cox lived at Willow Farm near the crossroad, it was always a good occasion, I did have ago at shooting but was hopeless, the star was Stuart Voase who I recall won on a couple of occasions. Joan ran the Falcon at the time, on this particular day it was packed out and even had a small bar outside; there were also hot dogs and burgers. Adrian Vaose did charity auction of meat joints of beef, leg of lamb and pork; all the meat was given by Adrian. Also there was a big raffle I used help sell tickets, I was usually given about £20-00 worth to sell, and always asked to draw some of the tickets on the night, this was run by Mrs Caroline Brown and her husband the late Peter Brown . I think the falcon was open from early afternoon until midnight, John Smiths Magnet was the best beer at the time - you knew when you'd had a few pints.
I'm sure many more of you remember this occasion, so let me know your memories of it.
************************************************************************************************************
A Few Memories of Withernwick - by Mid Moulds
I was born in 1940 opposite the Falcon, on the corner of High Street; the first thing I remember is looking out of the bedroom window one night to see Mr Carrs joiners shop on fire, they lived opposite the old Chapel; Mrs Jennison who a lot will remember lived in the village up to a few years ago was Mr Carrs daughter, I played with Alice her daughter. Jim Medcalf was the first landlord I remember at the Falcon there was a window just through the front door which they used to serve, people would take a jug and they would fill it up with ale to take home, Mary his wife used to love to play dominoes. Miss Agar was my first teacher at Withernwick school Mrs Medforth was the head, we often stopped to have a word with Bernard Hardy when we left school he lived at the top of Mill Lane,in a wooden building before Mill lane was developed, he was the village postman and also did a few shoe repairs, there was a delivery on Christmas day in those days, he often came in to our house for a drink and a warm by the fire, I think that was how Joan Wrights bungalow got its name Seebern. [See Bernard] as Joan could see Bernard out of her window. What prompted me to write these memories down was the letter from Chris Tomlinson which is very interesting, Mr & Mrs Gowthorpe was my uncle and aunt, Harold was my mothers brother, I do remember a boy staying with Aunt Ivy but I would be only 3 or 4 so don't remember much about him, I wonder if he remembers us the Ellis family because Aunt Ivy would visit us with him, my sister Grace remembers the name but cannot recall much.
There are lots more memories that I could write about ,which I may one day. I left Withernwick in 1966 and returned in 1988 it was just as if I had never left the village it was like coming home but not to the same house.

Best Wishes to all - Miriam Moulds nee Ellis.

************************************************************************************************************

The Winter of 1947 - by Terry Ireland
I guess you've all been complaining about the terrible winter we've had this year, but what you've suffred pales into insignificance compaired to the winter of 1947. I don't remember it a great deal about it being only 4. Grandad Barker and Ronnie Scrafton got stranded on a train from Hull and walked most of the way home (granddad must have been nearer 70 than 60). Church Lane was
just a walkway between high snow walls. The only thing I remember vividly was the first Sunday after the snow ploughs arrived and Aldbrough Road was opened. It was quite usual for families to go on Sunday afternoon walks together and I remember us walking some way up Aldbrough Road, well past Jack Fell's farm, and turning into a barely cleared field gateway. As I recall quite a lot of the village were already there when we arrived. Just in the corner of the field, almost up to their shoulders in snow were two cart horses standing frozen to death. Spread close by them was hay, which somebody had tried to feed them with but too late. For too many days nobody could get to them. I remember standing crying, but not much else of the day. They just seemd so huge and black and watching me. That memory keeps coming back to me still today. I dream about them.

If anyone else has memories of 1947 or 1963 (which was also a bad winter) do let me know.

************************************************************************************************************

The Closure of Withernwick School - 2004 - article supplied by Avice Brown

A newspaper article from the time recalling the church service held to mark the closure of the school, to see a photograph to go with this article and another photograph of the last group of pupils at the school - click here

WITHERNWICK SCHOOL 1846 to 2004. It was a splendid occasion, albeit tinged with sadness, when past and present staff and pupils joined at a special thanksgiving service for Withernwick School on July 11. About 40 young and old, mingled together. Some shared their memories publically during the service ledby Rev Sylvia Rice-Oxley at St Albans Church.
John Leslie Graham 85 and now lives in Hull, Shared his memories of his time at the school from 1925 to 1934. As was the custom at the time he left at the age of 14 to work on the land. Former pupils who now live all over East Riding were reunited. The pages of many photo albums were looked at and studied. Old school parties came to life, the superb qualities of the dedicated teachers were discussed, and many events that are inextrically woven into our memories were revisited. But even after many struggled valiently to keep the gates open, the school will soon be confined to the history books. As David Walker, chairman of the school govenors, said, "It wasn't a fight we could win"

************************************************************************************************************

Shops in Withernwick - By Terry Ireland

The only shop left in Withernwick is Blondies Hairdressers, this is a relfection of our changing society. Most of us have cars nowadays and so can drive to the out of town supermarket, supposedly for more choice. Will we have more choice in Hornsea when Tescos opens and many of the shops on Newbiggin consquently shut down? Maybe I'm being overly pessimistic, indeed I hope I am being; but for now let's indulge in a little nostalgia and recall a time, not so long ago, when the village could support four shops!
Add the Post Office and Voase's butchers to the two described here.
Or maybe 5 shops, in the 1861 census, a grocer's shop is listed in Gate Lane (High Street), run by Alfred and Mary Dunn.
If you can add any more to these descriptions then please let me know, I sure many of you remember these establishments well.
(Introduction by Paul).

Up until the 1970's Withernwick was well served by three main shops: the Post Office, W Ellis' and Dobsons. As well as our shops throughout the 50's and possibly early 60's the village had weekly calls from two different butchers vans, a grocers van from Hornsea, a wet fish merchant, a mobile fish and chip shop, an ice cream van, and less often, a chemist also from Hornsea, and the PDSA (we do still get visited by Voase's van, the Happy Apple, the fish merchant and the Rington's tea van - let me know if they no longer visit). Although we were less mobile in the sense that few had cars, there were also about five buses a day both to and from Hull, and trains from Whitedale station. We did pay extra for the services we had but we were reasonably well served in those days, in many ways much better off than now.
| | |
| --- | --- |
| | |
| | |
| --- | --- |
| A photograph of Main Street show W Ellis's shop just behind the men and the Post Office with its protruding window further along. | A photograph of the shop that later became Dobson's in Church Lane (both photos are c1900) |

The Post Office

Further along Main Street from Ellis' was the Post Office. When I first remember it, it was owned and run by Mr Fred Flint and was the village paper shop, all being ordered and either picked up at the shop or delivered. Like the other shops it sold sweets and tobacco and cigarettes. I am not sure if it sold groceries then, but I think it may have done. Of course the Post was sorted and delivered from there.
The postman was Bernard Hardy who lived in a little hut on Aldborough Road, kept white mice, did part time shoe repairs and was a great hand at tuning guitars for the skiffle group.
When Mr Flint retired it was taken over by Gordon Nicholson. I am not sure if he was the last as I do not know when it closed. I do know that at least under Mr Nicholson it sold groceries. Up to 2 years ago Mrs Nicholson was still alive and living Aldborough. I knocked on her door canvassing for Ringtons Tea. I did not know who she was but when I mentioned I was born in Withernwick she introduced herself, remembered me and my family and we had a nice chat.
At the time of the photograph above the Post Office was being run by Herbert Myers (from the 1901 census).

W Ellis & Sons (W stands for Wilstrop, the founder of the shop in the 19th century)
It may be difficult to understand today, but until the late 60's/early 70's Withernwick had three thriving shops: W Ellis, Grocer, The Post Office, and down Church Lane Mrs Dobson's. The most senior, if that is the right word, was Ellis' on Main Street nearly opposite Church Lane. I think it had a green door, not sure, but it did have a polished brass sneck (apparently Yorkshire for a kind of handle). Through the door, turn left across the tiled floor and there was the counter; I remember that counter from being a toddler not being able to see over it until at 6'1" I towered over it. Normally behind the counter would be Mrs Kathy Little, or one of the Jennison brothers, Jim and Arthur. Behind the counter was a sort of wooden rack full of various goods, a slicing machine for cooked meat, and a cheese wire for cutting cheese. There were also various unseen drawers under the counter. Turn left down a corridor, which passed the living quarters of Mr and Mrs Ellis, turn left and there was the indoor storage, full of things too many to name. I do remember though, on leave in 1963 buying a pair of Dunlop welly boots (£2.50 I think) which I am still wearing today. Of course I don't use them a lot nowadays which explains their longevity. The shop was a small equivalent of a modern supermarket but with service; it was possible to buy everything you needed there for life in those days, from boots to buttons, food, freshly cut and wrapped meat, cheese, lard , candles, tools, etc etc. Across the yard was the paraffin store, necessary in those days when many still used Paraffin lamps, and Primus stoves. Hard to believe but the Jennison brothers would be out every week delivering grocery orders in the small truck the shop had. They covered a huge radius, as far as Ganstead in the Hull direction. Each client had their order individually packed and on the delivery they would take the order for the next week. I am not sure whether they carried a small supply of groceries with them for forgotten things, but I wouldn't be surprised if they did.
The last time I was at the shop was when the effects were sold by auction one Saturday afternoon, after it had closed down. I think this was approximately 1970 but am not sure. I do know that the village lost a valued institution which gave good service; you could even buy on "tick", but the shop was probably becoming outdated, as the village became less isolated and village life was changing.


(As yet the earliest reference to Wilstrop Ellis ( as a grocer in Withernwick) in any census is 1891, which means the shop operated for at least 80 years. In the 1881 census aged 25, Wilsrop Ellis is a shop assistant for a shopkeeper called Christopher Hunter who ran a shop at 17, Fountain Road, Sculcoates, Hull. He had obviously started his own business in Withernwick by 1891).
This was a very small shop on the Church side of Church Lane (where the Briton family now live) with room for only three customers and then only if they crowded up, but it was the sweet shop. On the counter and along the back wall shelves, sat many big glass jars of boiled sweets. No Health and safety in those days; the sweets would at times fuse into a mass to be separated by hand and served in little 2oz (no idea of the metric equivalent) white cone shaped bags, or if you were flush in square 4oz white bags. There were also chocolate bars, chews, toffee bars, sherbet dips, acid drops etc, but no so many as we were still in sweet rationing.
Behind the counter, sat on her chair, Mrs Dobson, always smiling, understanding about the lack of sweet coupons; the shop so small she seldom had to get up from her seat to serve. She retired about 1950 and moved to Hatfield with her daughter Clarice. When she went the shop changed character.
For a short while the shop was taken by over by a Miss Hogarth and her carer/companion Mrs Skipper and her daughter Carole. They were not there long as Miss Hogarth became ill and died suddenly.
They were followed by Mr and Mrs Rumble and their daughter Christine. I think it was under them that the business expanded to compete with the Post Office and Ellis' by selling groceries. They came from the West Riding and didn't stay in the village long.
I am not sure when they went, but they were followed by Mr and Mrs Graves who stayed in the village until Mr Graves died, when the shop closed - I think Mrs Graves stayed in the village but am not sure, or when the shop closed. I remember him as a large cheerful character, who kept chickens in his garden. On one occasion he asked my mother to pluck and draw one for him, but he couldn't catch one, and ended up shooting one with an air pistol
************************************************************************************************************
Memories of Withernwick School in the 1950's by Terry Ireland

In my day every term in the Big Room we had to complete individual projects. This consisted of producing "My Spring/Summer/Winter Book" each consisting of a Story, Poem, Crossword, Picture, and a pattern, sellotaped between two hand painted grey paper covers. As one with no talent for the visual arts much of this was a nightmare for me, but when it came to the story I could really let my imagination roam. The only limits were in your mind, and gentle censorship from Mrs Medforth.
At the end of every term one of the village worthies, Councillor Percy Barrick, who lived close to the post office on Main Street, who was figure of mystery and awe to us, would appear in school, having read all our efforts. For what he judged to be the best in various categories he would award a prize – memory fails me here but I think it was half a crown (12.5p). I can remember the feeling of wealth with one of those in my pocket having won the story prize. A huge amount when the Old Age pension for a couple was less than £4 a week, and when my first bus pass for travel to school in Hull, lasting from September to July, was £8.
Most importantly, I think, in those dull post war days of rationing and recovery was the encouragement this gave to us to use our imagination and think creatively. What little talent I possess these days came directly from those days and projects.
Councillor Barrick, County Councillor I think, loomed rather large in the village life in those days, being the MC at every Whist Drive, giving a little speech after every Drama Group offering, and even at the school Carol concert. A real old fashioned figure of authority to we kids, and of respect to adults in those days when everybody knew their place. He had a really good deep speaking voice, a smiling face, and almost constantly a pipe in his hand, when not in his mouth.
Times, thank the Lord, change, but not always for the better.

************************************************************************************************************

White Cottage (Cowden Lane) and the Graham Family - by Avice Brown (nee Graham)

Click on the underlined links to see photos - to see a photo of Avice (May Graham) when at Withernwick School Click here

I do know a little about the Graham family from before I was born.
In the 1881 census Thomas and Mary Eland farmed 55 acres (now Walgates farm) farm next to Vicarage with land up to the bridge and fields opposite.
My grandfather John Graham married Ellen Eland daughter of Thomas and Mary Eland, she inherited money on her parents death. They bought 22 Church Lane (Richard Fenton's house) a small holding. They kept cows made cream cheese. He went by pony and trap to Beverley market to sell his wares. Their son, my father Frederick Eland Graham married Avice Ellen Smith, who in 1920 bought the White Cottage. My brothers and sister Cecil, Charles, Barbara, George, Leslie, Norman and Avice May, lived there. I was born in the White Cottage 1922, our family lived there till 1934.
I went to the village school, I had to walk through Mrs Otts yard, she lived above the White Cottage, across Witty's field, up Butcher's Lane, along The Bauk (the footpath from the bottom end of High Street to Aldbrough Road) and on to Aldbrough Rd to school. Ellis shop on Main Street had railings (now Lynton House) in front and Kath Burrel lent her bycycle on it, Kath came out of the shop picked up her bike and realised it wasn't hers.Three weeks later she saw her bike outside a house at Ellerby and did a swap!
On the field opposite the school was the Mill , the footpath came up from Bilson's farm to Mill Farm to the gate by the school, crossed the road to the Mill. I never saw the Mill . Mrs Medforth (Headteacher of the school - 1931-1963) asked the older population of the village and her brother drew the drawing. She moved from the the school house to Mill Farm and then to the end cottage next to the WI hut. On that field I can remember a big bonfire (maybe bonfire night?)
My mother used to take me on a seat on the carrier of her bicycle to visit people. She an my elder brothers went on their bikes to whist drives. My brother Charlie was fined for not having a light on his bike, the water had frozen in his acetaline lamp! We rode 'backstep' thats feet on the metal pin that was through the centre of the back wheel, there was no 'three speeds' then.
I left school 1933 having won a scholarship to the Grammar school in Hull.
Clappison's Farm was across the road from the White Cottage. I used to play with their children Philip and Josie. Philip was in the Home Guard, Philip retired 1995. The farm was sold to Heron Foods and is no more.
I couldn't make by brother Leslie's funeral in Sept. 2007, due to Hull floods and no accommodation.He was a POW of the Japanese working on the infamous Burma railway. He wrote a diary which is in the Memorial Arboritom - Erewash. There is a Memorial Stone to him, my father and grandfather in the memorial garden down Aldborough Rd.
During WW2 all my brothers and sister were in the army and I was sent to Malvern to the Radar Research Establishment -highly secret- I worked in the labs the with the bods designing, building and testing equipment for the air force before being put into production.

************************************************************************************************************

Memories of an Evacuee in Withernwick - 1944/1945 - by Chris Tomlinson

I had a brief but happy and memorable time in Withernwick between May 1944 and May 1945. I arrived near my seventh birthday as an evacuee from London at the time when Mr. Hitler had decided to use me as target practice for his V1 and V2 weapons. In Withernwick my father (George Tomlinson - Click here to see a photo of him and read his story) was based in a searchlight and anti-aircraft gun detachment which was situated in a field opposite the school but about a hundred metres further away from the village. I think they used the school initially to obtain water before they were fully operational and the caretaker of the school in those days was Mrs Ivy Gowthorpe (Mid Mould's aunt) who lived at 10, High Street.
One thing that I found different from living in London was that I was never hungry in Withernwick whereas it was the opposite in East Ham where we live at that time. I had stayed with the family throughout the Blitz but our house was severely damaged in November 1940 and we moved to a village in Norfolk between Fakenham and Dereham called Brisley. Although only three at the time, I was enrolled at the school so that my mother could be released for war work. After a year in an old cottage with similar facilities to those in Withernwick a few years later, we moved back to the east end. My mother worked as a Cinema Manageress at the local Odeon and my grandmother brought me up. No brothers or sisters. That period between 1941 and 1944 I remember vividly because I was eternally hungry, as was everyone there at that time. Strict rationing and long queues and black markets for the rich only. However, when I arrived at Withernwick, I can say I was never to endure hunger again whilst I was there. I never saw a banana till I was eight years old but Ivy made mashed turnip with banana escence and so I sort of experienced it a few years before the real thing. I suppose in a close farming community there was always ways of supplimenting the larder from the fields and hen houses.
So it was with her that I stayed for that year. Alas, I have no photos and gradually, my memory has dimmed regarding names apart from a Mr. & Mrs Cherry who lived on High Street at number 5 (now demolished but where Pat & Brian Pye's house is). There were little or no services to the houses then. The lavatory was at the bottom of the back yard. Oil Lamps and candles illuminated the house at night whilst a battery/accumulator radio was used sparingly for selected programmes. Cooking was on and in the cast iron range and a set of three solid cast iron flat irons served to press the clothes. I distinctly remember Ivy using the old washing 'Dolly' that looked like a small stool on a pole to wash clothes on the tub, then through the big mangle and then onto the lines.
Summer '44 was a good harvest in the East Riding and most of the children helped by stooking the sheaves after the binder had cut and bundled the crops. We also helped later with the threshing, mainly by rat killing, for which we got a small bounty. The potato picking I found hard work causing chilblains and mud on my hands, although I have to add, it was the first job in my life that I got paid for.
In June, My father's detachment was moved to the home-counties to help shoot down the buzz bombs en route to London. He sadly died in 1951 aged 51 when I was 14.
The winter of 1944 was dreadful. The school and most people ran out of coal and we sat in class bundled up in our overcoats and balaclavas for a while. But the snow was such good fun and somehow, ice skates appeared and many people were skating on ponds and frozen flood waters in the meadows.

Christmas 1944 I remember for a couple of reasons. We had a goose for dinner. I was told how wonderful it was going to be but when it was served up, I was severely chastised for not eating it. It was so fatty. I've never eaten Goose since.
As a present from Ivy, I got a set of draughts. People were so clever and resourseful in those days. The board was made from a cut out piece of cardboard neatly painted into red and black squares. The draughtsmen were made from car battery filler caps twelve red and twelve black. Good huh?
It was that Christmas that we were invited to go for tea at Mr. and Mrs. Cherry's house down the road. It comprised about three of the terraced houses knocked into one if I remember. I was astonished because it was the first house I ever entered where wall to wall carpetting existed everywhere. It was very grand.
There was a farm on the road out of the village where the school was but about half a mile further on, it was on the left hand side. We heard that a border collie had whelped a bunch of puppies and we went there to see them. They must have been about a week old as their eyes were just about open. We were admiring them when a young man who I think belonged to the family arrived. (You never saw many young men out of uniform in those days) anyway, he asked us to pick the one we thought was the pick of the litter, which we did. He then, immediately and before our eyes, put all the others into a sack bag and drowned them in the horse trough before burying them in the muck-heap. We were all so stunned. I think it was the first time some of us had seen life taken away. No one however allowed any emotion to show for that would be a very weak thing. Such was life.

Ivy Gowthorpe was also involved in the church as a vergers assistant (I think), anyway, I remember her disappearing all the time at church services only to find that she had to go to the rear of the organ and pump like mad to create the wind necessary to activate the sounds.
There were only two classrooms at the school which seemed to cover all ages between 5 and 15. There was always a mad rush at playtime with the call, "Last one to the block is IT"; the block being the buttress to the wall by the gate.
Most Tuesdays there was a film show of some nature at the village hall and either Thursday or Fridays was a Whist Drive and Dance. I sat out the cards but enjoyed dancing even though I was small. The great meeting place was at the smithy. There was always something happening there and the smells - I can still remember the smells of burnt horse hoof and hot iron.
Ivy took me to days out at Hornsea where a stretch of the beach had the barbed wire hauled back for us to play on. We also went to Hull a few times but not frequent as it too was receiving occasional attention from Mr. Hitler.
Sadly, apart from a lad who lived next door but one called Olwyn, I cannot recall another name.
However there was Mr. Tiplady, how the heck could I have ever forgotten that legendary gentleman. He was awsome enough at any time but with a steam traction engine, a railway cattle truck on wheels and a complete threshing machine in line being towed along the lanes of Holderness, he seemed to have half the cast of world war two jammed up behind him.
To us little brats, he was nothing short of a God with a fire breathing dragon that chewed up the wheat sheaves as fast as they were fed and spat out the grain into unliftable bags.
One must remember that at this time the war was really active and military movements were going on around us all the time, whilst planes of both friend and foe were to be seen daily, to the point one hardly bothered to look up.
On certain days in 1944 there was, in the mornings, an ambient droning sound. It was hundreds of B17s and B24s assembling over North Lincolnshire and the Humber Estuary. From the village they were just dots but then, they would suddenly, all go out to sea to their targets. I don't recall the sound of their return though.
People can talk all day about the traffic turmoil in London and elsewhere but I think in that year at the corner of the Falcon, we witnessed so many trucks and buses jammed 'cause they could not turn in the space (nothing has changed then! , my biggest moan, living where I do - Paul). One day Ivy and I were walking up the High Street towards the pub when a US Army truck (Big GMC) and another similar vehicle met face to face at that corner. It was a classic stand-off that ended an affray. Unfortunately, Ivy felt it was not for my eyes to see, but I saw enough.
Does anyone remember the Dentist coming to the school? This was war time and a few years prior to what we now know as the NHS.
Without warning, a man and a woman in white coats arrived at the school and in our classroom erected a framed, cloth screen. A big chair and a treadle with wires was also brought in and put behind the screen with a small table and a jug and bowl.
A name was called and the pupil was ushered into the space behind the screen whilst we were still continuing with the lesson. Well, the screams and crying that came from behind that white cloth terrified us all. The pupil, a little girl if I remember right was then carried back to her desk and then another name was called. The same thing happened but by the time they were poised to call the third name, we, as one, clambered out of our desks and ran home.
I remember no inquiry or punishment. Probably the parents had something very strong to say to the governors at that time.
Ivy took me to Hull in early 1945 and we were on a bus in the city going to see her sister. A boy got on the bus with a cone in his hand filled with mashed potato. I'd never seen anything like it and asked why would he want to eat mashed potato on a bus. She had difficulty in explaining that it was not potato but ice cream. The first I'd ever seen. I was eight years old.
I returned to London at the end of hostilities in Europe and was so sad to leave.
I returned to see Ivy and her husband who had returned home safely after seven years away in combat in 1954. It was in her house I listened to West Germany beating Hungary in the world cup final. That was just before I departed for Canada. I went to see her again in the early 1970s. Her husband had passed on and it was that final time I saw her. My last visit to the village was in 2001. It had all changed out of recognition. They say that nostalgia is a thing of the past.

I've always felt that I became a slightly better person for spending that one year in Withernwick. I've been back in UK since mid-September (2009) and return to my home in Queensland Australia in mid January (2010). I hope these few lines help to say something or fill in a gap or two.

And as you can see from the photo, the scenary is a bit different from Withernwick!
The right hand photo is me with my partner Gail.


************************************************************************************************************
Farming in Withernwick - by Terry Ireland

The photograph on the left shows framing in the 1930's.

The machine is a Binder - the revolving sails pulled the corn to moving knives, cutting and pulling it on to a canvas sheet then through the binding mechanism where it then tied them into sheaves. Baling wasn't promonent until maybe the early 60's (?) when Combines ( Combined Harvesters) became popular.
The sheaves were gathered into stooks, like little ridge tents, in the field. The next job was to fork the stooks up on to trailers using pitch forks, to be taken to the farm yard, where they were stacked until Threshing day, when Mr Tiplady or other contractor would come to do it, a very hard and dusty job ending in corn in bags, chaff also bagged, and straw stacked - my job when I did it was "carrying caff (chaff)" up the stairs into the grainery, which is now Withernwick Barn, on Crofties Farm. (have covered this in the poem Tipper)

Those binders were often in Forge Cottage at the blacksmith's for repair and renovation - a child could climb right down inside the mechanism and it became a space ship. or submarine, or whatever could be imagined. Wonderful games. ( one of the Forge cottage poems covers this)
***********************************************************************************************************

Withernwick Newsletter - March 2001
A full copy of the March 2001 Village Newsletter. Hopefully it will give an insight into village life just over 8 years ago, but history forms very fast sometimes. In that time the village has changed a lot and been through quite a few ups and downs. Clearly in 2001 the village seems very busy with events etc. I'm sure many of you will recall such a comparatively recent time and will clearly recognise the changes.
Click here (It is quite a large file, so may take a while to open)
************************************************************************************************************
Recollections of Withernwick - by John Witty
I have lived in Withernwick all of my life. I was born at Withernwick Hall in September 1941 and lived there for the following 25 years with my parents, Jack and Olive and my sister Joyce (now Sharp), she still lives in Mill Lane with her husband Charles.
I remember gong to Withernwick school in the 1940's. The head teacher was Mrs E Medforth and another teacher was Miss Ager. The vicar of St Alban's at the time was Rev Hewson.
We had a youth club in the village hall run by Mrs Hewson. She once wrote to our parents and banned six of us because we had been in the Falcon when we were only 16 at the time. Our mum and dad did not get the letter because it was addressed to us.
In 1947 we walked to school on top of snow-drifts which were as high as the hedgerows. Frost kept the snow solid for over six weeks.
On Queen Elizabeth's coronation day (1953) we had a party at the WI hall with tea etc followed by a sports day in Crofts Field at the bottom of Church Lane for parents and Children.
We once had a football team called Bean Stubble Rangers because the pitch we played on was bean stubble!
We had three shops in the village at this time: Mr Ellis ran the general store, Mr Nicholson ran the post-office and Mr Graves sold sweets etc. We also had a cobbler and Mr W Skelton was the village blacksmith. Mr & Mrs Gowthorpe lived in the High Street, she helped with the school dinners and he worked for the council and cut peoples' hair at the weekend for one shilling (5p). Wages at the time were £5 per week and beer was 1/6d (71/2p) a pint.
One day father was ploughing with our first tractor, a Fordson Major, when a hole opened up in the ground. One of our workmen dropped a stone down and it hit something metal. They got in touch with the MOD who came and found a 500lb bomb! Dad often loved to tell this story in later years.

I also remember we had a local policeman, he lived in Aldbrough and he used ride a push bike. We used to play him up a lot of the time but never went too far with it, as in those days he would give a taste of his boot, then take us home to our mum's and dad's and get a belt from them. One day we did go too far with him, we put some stones on the triangle down Church Lane and wrote in memory of Pat Fagen; he saw it the next day he was very cross with us, made us move it all, he watched us until we took it all to bits. At the end of the day we had a lot of respect for him as he new all ages and where we lived.
At Withernwick Hall my dad bought a bull as we had some single suckler cows. One day dad was feeding him it turned on him traped him, hurt his leg badly. If I remember it correctly his leg swell up like a football and he was lame for months after. Back to the bull that went mad, it had to be put down. The problem was that you could not get near the beast it; it would charge you if you went in the field. In the end Dad got Ken Laws a fellmonger to come from Beverley in is lorry. I remember the bull charging at his lorry, what a bang when it hit the door of is truck. He missed the first shot with the 22 gun, but he was read next time it came for him and it went down like a stone. Dad was very pleased it was all over and no body had been killed.
One Mischief night a long time ago, when I was about 14 to 15, the WI was having monthly meeting. So we thought would frighten them a bit with penny and two penny bangers, which in those days did make a good bang when they went off. So off we set, about 10 of us; as a warm up treatment we lobbed a few bangers at the door to make someone come out and have a go as us, that is what we wanted. As soon the door opend and someone shouted at us to clear off, we lobed a few more bangers. Next thing someone did was to climb on the roof and drop a few bangers down the into the stove. That certainly did the trick, the place empted and they all came out as black as soot. We ran away as fast as we could; no one was hurt, at least not until us lads got home our and mums and dads gave us a damn good telling off.
I also remember taking my younger sister Joyce up to village; I can't remember what for, maybe the youth club. Mum and dad said it was okay as long I got her home safe. I had otherwise said I would meet some of my friends coming home, so I dumped he at cross roads and came home with my mates to play at the farm. When I got home mum and dad asked were Joyce was and I said I was fed up of her so I dumped her. Needless to say I did get into trouble from them to, I never did that trick again in for sure.
When I was 7 or 8 me and some lads rode down the hill, in Church Lane, on our bikes as fast us we could and I could not stop before we hit the nettle patch. I was showing off and came over the handle bars and ended up face down in the nettles, did they sting and make me cry with pain; I was wearing shorts, so as you can guess I was a right mess.
I dont know if anybody remembers the childrens Victora hosptial in Park Street, Hull. In 1947/ 48 I had my tonsils and adennoids removed, it was a horrible place all dark wood panelled wards I remember crying my eyes out when mum and dad left me there, I was only seven years old.
One Christmas , when I was older, I went to a party at Leven sports centre. I was driving home and when I got to Rise Park gates the police stopped me, they had a Mini plice van stood in middle of road and they were flashing a torch so I had to stop. They checked my lights, tyres etc but I did not wind the window too far as I had been drinking. He said "wind your down window sir" then said " has sir as been drinking?". He shone the torch in my face so I coverd my eyes up with my hands. "Lets have a look at you, ah yes I know you, get of home my mate or I will have your guts for garters". Of course this happened before the breathliser came out.
I remember my dad buying a tup (a male sheep). We used to aggrevate him, the lads would go up to him and call him "Tupy" a few times; of course it got him in a bad mood just like anyone would having been called names. So when he saw us come into the field he would come at us with his head down and try to butt us, it did hurt if he hit your with his head. Dad did get cross at us for doing this. One day, near lambing time, dad was feeding him when he came at dad and knocked him over. Dad wasn't hurt but he took it out on me, that's all I will say.
I worked for my dad until he retired and sold the Hall. After that I worked for 10 years for the late Peter Brown and Caroline Brown who I keep in touch with; they were very good and very kind to work for,for example at Christmas we all received a very good christmas present.
In the late summer we would go potato picking at Willow Farm, a small dairy farm which was run by Leslie Walgate. He offered to pay us 1s 6d a hour so we went on strike as we wanted 2s. So we sat on our buckets and refused to work until he paid up. One day he went off to Beverley Market, we thought he'd gone as we saw his car go up Whitedale Road; so we were larking around and started a pototo fight, but Leslie had turned round, come back and caught us red handed. Willow Farm was on Beverley Road from where the old Vicarage is to the crossroads; Leslie worked there until the 1960's when he sold the farm to J R Cox.
We used have a days shooting which my dad and I got i invited. It was always a good day out and the eveing do was the just as good; we were all taken to George and Dragon, the resturant there in those days was very up market, with very posh menus. The Holderness hunt used to hold a meet at Withernwick Hall, for which Caroline used do a lot of baking and do a lovely roast of beef and pork; we used be able to help ourselves to it when the hunt had set off. We were of course working with the pigs but we got time off okay as we started work a bit earlier which Peter did not mind; the rest of the afternoon we had a good time with plenty of free food and beer but we were carful not to eat or drink to much. You can see how very kind the Browns were, I once hurt my self by dislocating my shoulder, they to me to Hull Royal Infirmary, waited three hours for me and took me home. I had to go back the next day for a check up, again they ferried me there and back and told me not to go on sick they just keeped paying my wages as normal. If I got feed up of being at home I would go with Caroline to pick the Susie and James from school in Hornsea or maybe I would just have a walk up to the Hall at mid morning for a cup tea or coffee with them all. So I will not have anything nasty said about them; I know how Peter died - a really true gentleman.
I worked with David Griffiths the manager and also Leslie Steele who had worked for the Browns for 15 years until they sold the farm. Then the pig unit was rented to Northern Pig Development co ltd, I forget the managers names but the procuration manager was William Cunningham who was always very fair with all and I always kept in touch with him; sadly he passed away this November (2009). Then NPD changed ther name to Acme. The new manager Malcom Stead not as kind as Williambut I still worked for them for 20 years until due to ill health I had to retire. Laterly I have been doing volunteer work for the RSPB at Bempton. I am very happy again, my life has gone full circle it feels just like when I started for Peter and Caroline.
(Added Sept 2010) I am 69 this year, so I was born long before mobile phones, lap tops, cds, dvd, sat navs etc. In those days, if we got in bother with the police our mums and dads sided with them, also thumbing lifts and getting into someones car who you did not know was perfectly safe. In those days, there no mobile phones so no one knew were you had gone to but always came home at tea time. You could not sue anybody if you fell over a wall, out of a tree or fell over a lose paving stone, it was your fault. We bathed in a tin bath in frount the fire, no fancy names soaps, just carbolic which was used to wash you hair as well; if the suds got in your eyes it was awful, certainlymade your eyes sting!
I often think what Withernwick will be like in the future – but I won't be here to see it.
************************************************************************************************************

Some memories of life in Withernwick - by Doreen Dunn - June 2000
Although I am one of the very few people living in Withernwick now, who were here during and before the war, I still like living here. My father's parents lived at 'Glebe Farm' so we have a long connection with Withernwick Church. The baptism book now in use at St. Albans recalls the baptism of my father, myself, my children and my grandchildren. The village was a peaceful place. I well remember the first violets in the spring, the streams where kingcups (marsh marigolds) could be seen in the summer and also the best hedges for brambles in the autumn.
As a young child I recall the tennis club and the skaters returning from the Lambwaths after a pleasant hour or two ice-skating on the flooded fields. At this time the Lambwaths flooded each winter before drainage was improved. The Chapel Sunday school anniversary brought the village to life, with the Chapel being full and lots of extra seating outside. Every house seemed to have visitors for tea. About two weeks later, the Church had our Sunday school egg and flower service. I remember playing on the site of the village hall as it was being built. It was completed just as the war broke out in September 1939. The army took it over as the NAAFI so by the time the village got it back, the newness had been well rubbed off I; can recall the Foresters Hall being used for meetings and social occasions. The village also had its own 'dads army' officially the home guard (Click here), but originally the LDV - local defence volunteers) who met at the Foresters Hall. My father was the sergeant and Mr. Medforth - the husband of my schoolteacher - was the captain. Our new electric wash boiler was put into use each week to make cocoa for the men.
When evacuees arrived in early September 1939, they made a big difference at school as the number of pupils almost trebled overnight, although some did not stay very long and returned to their homes. This was well before the massive air raids of 1941. I suppose I was about 10 or 11 years old when I sat in the class room at school and watched a parachutist bail out of an aeroplane which crashed into the sea off Aldbrough just 3 or 4 miles away. The local home guard came out in force, and after a long chase, a very frightened 19-year-old German airman was caught at Carlton near Aldbrough. During the chase, my father picked up a khaki mitten complete with a nametape (Oclar) presumably the young mans name. I can remember this very clearly, as we were all afraid of what was going to happen, as we were in constant threat of invasion by the Germans.
I remember a framed photograph of HMS Whimbrel, the adopted ship mentioned in the last newsletter hanging in the village hall for years. We lived in Post Office Row and from our bedroom window my sister and I watched the searchlights at the army camp at the bottom of school hill beaming their lights into the night sky to try to locate enemy bombers on their missions of destruction. Sometimes we saw some German planes picked out by these criss-cross of search lights beams like silver birds, from the west facing windows we watched Hull on fire, and it was difficult to imagine there being anything still standing or anybody still alive.
After leaving school at 14, the normal leaving age at that time, I spent the first 6 months working in our main village shop 'W. Ellis & Sons' a general store with 7 staff and 2 delivery lorries a very busy place as they also supplied groceries and sundries to some surrounding villages. Mr. Ellis collected orders and payment from the previous week's delivery, and also ran a clothing club with weekly contribution and twice yearly display of goods in some local villagers. These premises are now Mr. Fawcetts house. The post office was also a shop and our third retail establishment, now part of Mr. Brittons property, was also very useful. Just before my time, it had a bakery but they continued to deliver orders well into the 1950's.
The Falcon has played a large part in my life. My father became landlord in 1952 and after 13 years, my sister Joan took over the licence for over 20 years. Earlier, my Aunt (my fathers sister) had married the then landlord's son in 1926. Opposite the Falcon, right on the corner was our Fish & Chip shop owned by Mr. Jim Ellis, whose daughter, many years later, had the fish shop on the Burton Estate in Hornsea. In common with many villagers, we had our local tradesmen, such as the joiner Mr. Cart and the blacksmith Mr. Skelton who shod horses as well as making and repairing all sorts of metal based tools and implements. Both tradesmen largely serviced agriculture, which was then much more labour intensive and based on much smaller machinery. Another wonderful memory was being invited to Holderness house in High Street to watch the Queens coronation on television, only a 9" black and white screen but what a thrill.
Thinking back, the village has always had the same problems, e.g. fighting to keep the school open since the 1950's. I organised a youth club because the youngsters wanted something to occupy their time. The Darby & Joan club was a wonderful innovation for the over 60's and at one time had a very large membership. The woman's institute, who built the village hall, started in 1930 and had a strong following. I joined in my early teens. Saturday night dances to records played by Mrs. Jean Ellis were a great success, but a proper dance with a real life band was super, only surpassed by a whist drive and supper before the dance. All this was before television. My mother always participated in village events and received her long service medal with a WRVS in 1974. She was a keen member of the local council, W.I., Darby & Joan and the Church council. I have followed in her footsteps with everything except the Darby & Joan and silly as it may seem, I don't feel old enough.
My hobbies are walking with the Monday group. In 1999 I walked the Wolds Way, all 78 miles, but I hasten to add, in 12 easy stages - most enjoyable. I also play indoor and outdoor bowls and I keep a roof on our Church by baking for coffee mornings and filling a stall at our annual summer fete and the autumn fayre. The rest of my time is spent with family and friends.
Well I hope I haven't bored you, but I could ramble on for ages. Maybe this screed will prompt some other readers to share some memories or experiences, just as I was prompted to scribble a few thoughts by the contribution from Mrs. Hudson saying how much she enjoys living in Pear Tree Cottage. I hope she enjoys Withernwick as much as I do and for a long time. I still enjoy living in the village.
************************************************************************************************************

Memories of Withernwick by Tom Kearny's Grandaughter.
I lived in the village between the years 1915 and 1926. There was no electricity, gas, water or sewage. Lighting was by paraffin lamps and candles. Drinking water was pumped by hand from a well near each house or group of houses. Toilets were usually away from the house at the bottom of the garden and were earth closets.
There were 3 shops. W. Ellis & son, in Main Street opposite the Methodist Sunday school. H. Morris opposite Foresters Hall, which was also the post office and Mr. Dobson in church Lane. My father worked for W. Ellis & Son. He also travelled by horse and cart taking groceries to places like Whitedale, Oak Cottages, New Ellerby, Marton and Rise. The butcher was Mr. Dunn next to the Methodist chapel. Opposite the chapel were Mr. Carr the joiner and undertaker.
My Grandfather, Tom Kearney was the postman. He rode a cycle and collected the mail from Whitedale railway station, sorted the mail at the station and then made his way back to Withernwick. He also checked his pocket watch with the station clock to bring the correct time back with him for the people of the village. There was no radio in use then. He lived in what is now called Rose Cottage, next door lived the tailor who could be seen at work by a workbench or table through a fairly large window at the front of the house. It is now called Lambwath Cottage. None of the houses in the village had numbers, a few had names. I lived in High Street, in a cottage, which is now number 8. Opposite our house is Holderness House which in those days was the Homco stores, a warehouse where various kinds of cattle feed cake, nuts etc. was stored. It was brought by lorry (with acetylene gas lamps) from the mills in Hull.
Farmers were able to collect the cattle feed when they needed it. I remember the primitive Methodist Chapel in High Street being use as a Chapel but it later became the carrier depot. In the cold weather the carrier, Mr. J. R. Kearney (who lived in Church Lane) use a lorry (Ford T) to collect goods from Hull and deliver in the district. In the summer time he took the body off and put on a charabanc body so that he could take people out such as the Sunday school outing to the beach at Hornsea. It was some times necessary for some people to get out of the bus on the journey back home, so that it could climb up Southwick Hill.
Mr. Longman was the Blacksmith at the forge in Church Lane. When he left Mr. W. Skelton took his place. In premises near the forge there used to be the Harrison and Dibnah families who I think were wheelwrights and cabinetmakers. The cobbler was Harsley, his shop was at the back of the Methodist Sunday school room and was often visited by people just for a talk as well as boot and shoe repairs. He was also Sunday school leader. When he died a cobbler called Bernard Hardy took over in a wooden building at the top of Mill Lane. The first cottage in Mill Row was the home of Mr. Capper the watchmaker. His workshop was the small brick building still standing.
************************************************************************************************************

Some memories of Withernwick - by Caroline Smith - June 2000

I moved to Withernwick on the 16th March 1977, the day before my 10th birthday. I started at Withernwick School the same day I spent a happy 18 months there, learning to play the recorder and the guitar. I was asked to join the football team, as there weren't enough boys. I wasn't very good at maths but enjoyed arts and crafts and tried my best at everything else. I was also in the school play about Sir Walter Raleigh. Life in the village was quiet, we would kick a ball around and go for a ride on our bikes, and got up to the odd bit of mischief! The year of 1977 saw the Silver Jubilee and the entire village got together for fun and games and a dance in the Wl hut (now the village hall).

In the September of 1978 I started at Homsea School and spent the most wonderful time there until I left in 1983. I loved my sport especially hockey and rounders, at one point I held the school record for throwing the rounders ball which I held for some time. I played hockey for the East Riding and Humberside at under 16 level and went on to be one of 42 girls from England and Wales to go before the England coach. It was great fun but hard work. After that I just played for Homsea Ladies.

Going back to village life. As I got older it was good. When I was 16 I got my moped, which was my first bit of independence as few of the village boys got motorbikes. We would go fishing on Cowden beach or for trips into Hornsea. I used to do quite a few babysitting jobs in the village, at one point for 3 families, which was great fun. I then used to help Mr. Fryer and his daughter Katy to weigh out potatoes into 3 or 5lb bags for his green grocer's van, which earned me some pocket money. Two other things I used to do were help Katy Fryer with the Sunday school and June Bell with the youth club.

I would go to the music and movement classes in the village hall every Monday night, which helped keep me, fit. In 1983 I started at Beverley College of further education, to study a course in home economics for the family and community care, which means working with babies, children, handicapped and the elderly. I was there for 2 years. I then passed my driving test in 1984 my first car was a mini.

I had a few jobs after leaving college one was working in Harrogate looking after 2 boys, which was great fun. I now work in a private boarding school in Northamptonshire, helping to look after girls and boys as the school matron. I am now in my 13th year there. It's a very busy job but well worth it. I have been on many trips over the years, camping in France, day trips, canal boating holidays and skiing. During the holidays I always visit Withernwick to catch up with family and friends and to have a pint in the pub. Outside of work I have visited a small part of Australia and last year I went to Iceland- I also like to play the odd game of golf

****************************************************************************************************************
Working Withernwick. c1950 – 1961 by Terry Ireland
In the recent past Withernwick was much more a hive of activity that it is nowadays. Many people were employed in the village, which is no longer the case.
Bottom of Church Lane turning left towards south end, Crofts Farm, Prospect Farm, now a special school, the barn is a house, farmed by Mr and Mrs Croft. Their Children were Len, Marjorie (later Smith), Dorothy, Janet and David. Before the Youth club of my day started Mrs Croft opened one of the rooms in the house for the teens of the village to gather on a Friday night, and on other occasions where the Ramblers Skiffle group practiced. My dad, Tom Ireland, worked there for a short while and I once or twice carried caff at threshing day, helped dip sheep, and did hay making.

Further down on the left, the house to the sides of and behind Tanton Terrace (originally I think the home of the Tantons) Len Smith set up his motor engineering workshop.

Down East Lambwath Road was Rawson's Farm, Straits Farm. Run by Jack Rawson, a bit of a flamboyant character by village standards. Had son John and daughter Catherine. He owned at least one hunter. Specialised in pig farming, and I believe eventually exported all over Europe. Just across the road from the farm building was his boiler house where he prepared the swill for the pigs. On certain days when the weather was just so presented the village with plumes of black smoke and the sweet sickly smell of the swill. A great bloke –I picked spuds for him one year but the land was so wet he had to plough them back in, but still paid us the agreed wages though we only worked about an hour.

At South End, Billy Bulson's Farm, Manor Farm. This was the home of Billy and Mrs Vera Bulson, their sons John and Jeff, and daughters Barbara and Jill. John Saltmer worked and lived in there, I think until he married Betty. My mother, Mabel Ireland, cleaned there for some years, and I was spoiled rotten by the family.

Back up Church Lane, the Blacksmiths Forge owned and run by Wilf Skelton, he was known as Uncle Wilf to me and the Steele children. Used to employ two others, but in the end only Wilf. Agricultural repairs, shoeing horses, made a replacement weathercock for the Church, made the metal work for Straits Bridge one year when the wind and high water destroyed it.

Ken Fenton's Farm was on the right hand side. He was farther of Fiona and Richard and step father of Valerie Pickett. He drove his cows up Church Lane every day at milking times. He was a quiet but genuine man. He was the brother of Mrs Steele, and had a sister Bessie who lived in the village but I can't remember just where.

Further down Church Lane, Dobson's Shop, later Miss Hogarth's, Mr Rumbles, and finally Mr Jess Graves. Mr Graves was a huge genial character, Mrs Graves so nice and quiet. So many times as a child I was sent to his back door after closing time with my "mam says sorry to bother you but can we have ......." and was never ever turned away.

Top of Church Lane to Main Street – Ellis's shop, Turn right to the Post Office. Further down Aldbrough Road, on the right just before the school was Benny Witty's Farm, father of David, Uncle of John. For a short time, certainly before 1950, Mr Witty used to sell milk form churns hung from a special bike. He would ladle the milk into the customer's milk from a set of ladles of different capacities. When he retired the farm was bought by Mr and Mrs Medforth, possibly on her retirement from the school; it was virtually demolished and rebuilt using the original bricks, and remodelled inside. The whole village by turn were invited to see it and sign the guest book.

Further down Aldbrough Road, Jack Fell's Farm, Homer House. He was father of Joan, Brian, Geoffrey and Dennis. Also home of the tennis court, built by the village kids on his land with equipment provided by him. He was a real gentleman in so many ways.

Back down Main Street and left at the top of Church Lane. Sometime during this period Adrian Voase opened his Butchers shop, with slaughter house on the side. Bill Giles learned his trade here.

Opposite sides of the road by the phone box, the joiners shop of Mr Carr, also the village coffin maker, father of the late Ethel Jennison.

High Street, the old chapel site, I think during this period Brian Johnson, set up his business there as Agricultural Suppliers before he and Joan took over The Falcon. Later this became the workshop of Arthur Young, builder, and is now rebuilt as a house, Chapel Bricks (by Arthur).

3 Lorne Terrace house, Bill Simpkins, joiner had his workshop behind the house, father of Joyce, Chris, Peter and Brian.

Past the Vicarage was Leslie Walgate's farm, Willow Farm, he was father of Patricia. Just off the road at the entrance to the farm were a pond and a large Horse Chestnut tree which supplied the village kids every year in the Conker Season. This was eventually landscaped away when the farm was bought by Jack Cox. Father of Caroline and John. Up to two years ago John was running his International Haulage Company at Catfoss, the Industrial Site on the old aerodrome.

Crossroads and turn right up Hatfield Road was Withernwick Hall, Farmed by Jack and Olive Witty parents of John and Joyce later sold to Peter Brown, who farmed the land, but was the Chairman and major shareholder of City Engraving in Hull, gave me my first job when I came out of the Army.

Up Cowden Lane opposite White Cottage was North End farm run by Fred Clappison (later run by his son Philip), then past the White Cottage and on the left Alwin and Arthur Fisher's farm, Glebe Farm, later farmed by David Smart.

Back to crossroad and towards Whitedale, another Witty's farm, Westlands Farm, just on the corner – father of Peter and Uncle of John.

Just up the hill on the bend Basil Hornby's Farm, Whitedale Farm, Father of Jim, David and Peter.

Towards the station on the right was Porrit's Garage, run by Joe Porritt.

The Station with Station Master, the last I remember was a Mr Wiles, and at least one Porter. In its day a quite busy station on the Hull to Hornsea Line, particularly in the Summer Holiday period.

Just beyond the bungalows on Rise Road was Ruddens Farm run by Mr Richardson.
******************************************************************************************************************************
The Hardbattle Family - by Steph, Susie and Barbara (children of Dorothy Hardbattle) and Terry Ireland.

The Hardbattle family originated in the Wolds and lived in Lund and other villages in the area. At some point they moved to Roos, John William was born there in 1885, he met and married Minnie Blagdon from Hull and together with children John (b 1906), Ada (b 1908) and Lilian (Lily, b 1911) they moved to Withernwick around the time of the start of WW1. The family lived in a house in Mill Row where they stayed for their whole time in the village, although they did, at some point, live in two different cottages in the row. They had two more children while in the village, Leslie (Les, b 1915) and Dorothy (b 1925). John William had faught, with the East Yorkshire regiment, in WW1 and appears on the village Roll of Honour in St Alban's church - click here, he was honourably discharged from the army in 1917, due to shrapnel wounds. Minnie was a regular attender of the Weslyan Chapel, the preacher at the time was a real fire and brimstone character.
All the children attended Withernwick school and there are photos of Lilian and Les from their time there, they were obviously quite sporting - click here and click here. Dorothy remembered being taught by Mrs Medforth and actually had a soft spot for Neville, Mrs Medforth's son. Dorothy's best friend was Hetty Knaggs and the pair used to practice their tap-dancing skill on the footpath in front of Mill Row. Obviously they were 'typical' children and once the pair were caught by their dad (John William) trying out Woodbines in the shed at the bottom of the garden, they were only caught the once (did they give up or manage to hide their habit better?).
All the children played their part in WW2, John joined the merchant navy (mainly working on Atlantic vessels going to New York), Les joined the army (see WW2 Roll of Honour - click here) and Dorothy was in both the Land Army and the ARP in the village.
After the war John William and Minnie remained living in the house in Mill Row, but all the children gradually moved from the village. For example Dorothy married Robert Adam and moved to Aldbrough. The cottage was typlical of the village with two rooms upstairs and two down. The privy was outside and consisted inside of a wooden seat with a hole in it and a bucket to collect the waste. The Cherry family lived in the end cottage of the row and they were the first to have a proper kitchen. Minnie used to wash in water collected in the water butt and claimed that this was resposible for her smooth skin and shiny hair.
John William and Minnie continued to live in Mill Row until their deaths. John William who was locally known as Jack was quite a well known character in the village in his old age. He was a very keen gardener, he had an allotment and grew a lot of his own vegatables; he also said if he could grow a black tulip or rose he would become very rich. He used to wander around the village with his little Jack Russell and with the aid of his stick. He was particularly fond of the children; for example Terry Ireland remembers Jack telling him and a group of friend stories that kept them well entertained (that would be in Church Lane near Wilf Skelton's blacksmith's shop). Jack did like a odd drink and so was probably a fairly regular visitor to the Falcon. One winter one of his grandsons Robert (son of Dorothy) caught pluracy and Jack walked all the way to Aldbrough in the snow to fetch the doctor which saved Robert's life, Jack was a very kind and thoughtful man.
Jack died in about 1960 and Minnie sometime in the late 70's or early 80's. They are buried in St Alban's churchyard. This ended the time the Hardbattle family spent in the village. There are quite a few photographs of the family from their time in the village - click here. To see a family tree of the Hardbattles - click here.

******************************************************************************************************************************

Barrington Webster and the blacksmiths of Withernwick - Paul Boyle with help from Pat Ashbridge, Patricia Partridge, Wendy Sanders and Ann Hooper.

Barrington Webster (click here to see a photo) was born in Hedon in 1809, but we need to go back a bit further first. His father was Richard Webster (b 1786), Richard was a blacksmith and, presumably from his influence, Barrington becomes a blacksmith also. In 1841 Richard and his family are living in Elstronwick (the family includes Richard's Mother-in Law Elizabeth Blanchard (b 1766) which is important later on), however Barrington has left home (about 1830) and is living in Withernwick with his wife Susannah and seven children, all of whom were born in the village. Even the name Barrington suggests a larger than life character and, as the village blacksmith, he was an important member of the community in days long before you could go to B&Q for a new scythe or whatever. By 1861 Barrington and Susannah have had 13 children, at some point they are living in Church Lane; this is significant as it was where the last village blacksmith's was, we may hypothesise that Barrington was working in the same place. Also one of their children was Jane Webster (b 1837), Jane later marries Samuel Harsley and gives rise to the Harsley family that were later a very prominent family in the village - click here and click here. Indeed there is a photo of Jane as an old lady about the year 1910 - click here; this photo is taken in Church Lane and so perhaps the house had previously been the Webster's family house. To bring us up to date with the Withernwick Websters, all the people mentioned above are therefore ancestors of Terry Ireland, e.g Elizabeth Blanchard is Terry's great-great-great-great grandmother.
Curiously in 1861 Barrington has made a career change to a Grocer and Druggist, but since the 1841 census there had been another two more blacksmiths in the village one called Mark Coulthread (b 1823 in Withernwick) and the other William Coupland (b 1801) along with, later, his son Matthew Coupland (b 1831 in Withernwick). So In the 1841 and 1851 censuses, the village had three working blacksmiths. Working for Mark Coulthread, in 1861 and 1871, as an apprentice blacksmith is John Webster (b 1835) one of the sons of Barrington and Mary; John is also described as a nephew of Mark and Ann Coulthread (the exact relationship cannot be traced). Mark Coulthread is still working in the village by the time of the 1871 census, but has disappeared by 1881.
Not all of Barrington's children became blacksmiths, another of his sons Richard (b 1841) becomes a shoemaker or cordwainer, which may lead to another connection with the Harsley's as James Webster Harsley (b 1861 in Withernwick) was a shoemaker (James would be Richard's nephew). Richard marries a Mary Jane Salvidge (b 1846) and in 1871 his Mother-in-Law Caroline Salvidge is living with them. In 1851 Caroline and her family, including Mary Jane, had obviously hit upon hard times as they were in the Union Workhouse in Patrington.
In 1871 Barrington and Mary are living in Church Lane with no children. Of his children the only ones to remain in the village are John, the apprentice blacksmith, Richard, the shoe maker and Betty / Betsey who is a servant to John Molyneux Crockett, the Vicar of St Alban's living in the Vicarage, Beverley Road. Betsey married Thomas Kilvington in St Albans on 20th July 1876. By the time of the 1881 census there are no Webster's recorded in Withernwick except by this time Jane Webster has married Samuel Harsley, they are living in Church Lane with seven children.
We don't usually follow the descendants beyond their lives in Withernwick but an interesting character is one Sydney Norman Webster (b 1900, a great grandson of Barrington and a grandson of John (the blacksmith and also a Methodist lay preacher). This branch of the family had moved to Leeds (John's brothers James, William and Robert all, at some point, also lived in Leeds) and then to Walsall, then in Staffordshire, this is where Sydney was born (and so a fellow Black-Countryman with me!). He became a airplane test pilot when it wasn't the safest job to have and actually won the Scheider Trophy race held in Venice on 26th Sept 1927 ( go to www.stuartwilliams.net/walsallsflyinghero.htm for a fuller story).
The Webster's weren't the only blacksmiths in the village at this time, from at least 1841 until 1881 a family called Coupland were also blacksmiths working in Church Lane. This included William Coupland (b 1801) and his son Matthew (b 1832) and they were the only blacksmiths in the village in 1881 (Mark Couthread seems to have disappeared after 1871). Then after 1881, the Couplands seem to have disappeared from the village. Barrington died (in 1877) and is buried in Easington, one of his sons, Robert Henry (b 1848) apparently founded the present shop in Easington - click here to see a photo of Webster's shop in Easington - click here to see a photo of Barrington and his headstone in Easington Churchyward. Barrington was buried there, probably because he went to live with Robert Henry for his last few years.
Parallel to the life of the Websters, Coupland's and Coulthreads another dynasty of blacksmiths is growing which is the have a later bearing on Withernwick, these being the Dibnahs. They first appear in Humbleton in 1841, the head being James Dibnah ( b 1801), he, of course, being a blacksmith. This is another large family, in 1841 James and his wife Ann have 9 children, one of which is Harold (b 1830). Inevitably Harold becomes a blacksmith and in 1871, still in Humbleton, Harold has married Alice and has a family of 8 children (must have been something about blacksmiths!). The plot continues, two of Harold's sons Arthur (b 1861) and Ernest (b 1866) both become blacksmiths. What has this got to do with Withernwick? we'll get there. By the 1891 cenus Arthur Dibnah (click here to see a photo) is the village blacksmith working in Church Lane (the Couplands have gone). He is still the blacksmith in 1911 and by then he has his father Harold living with him and described as a retired blacksmith. We cannot be sure how long the Dibnah's continued to be blacksmiths after 1911, does anyone know? Later on, of course Wilf Skelton became the blacksmith and many villagers remember him - click here.
Meanwhile, what of Ernest Dibnah? We first need to meet some more Withernwick people - the Ashbridges. Robert Ashbridge (b 1819) is decribed as a carrier to Beverley, he has two daugthers, Ann Elizabeth (b 1856) and Susannah / Susan (b 1864). Ann Elizabeth marries Christopher Webster (b 1853, a son of Barrington Webster). Susan marries Ernest Dibnah, so the connections get very complicated at this point, so do keep up! In 1901 Ernest is working in Hull and is described as master blacksmith, he and Susan now have a daughter Ida (b 1892, in Hull). Now we must again go on an excursion into the post-Withernwick descendents of the Dibnah-Ashbridges. You guessed it - Fred Dibnah was a descendent of these Dibnahs, obviously the blacksmith instinct passed down the line all that way and even crossed the Pennines!
Sadly we don't have (or need?) a blacksmith in the village anymore. So we have come all the way from Barrington Webster to a time when we can go to B&Q to buy a new lawnmower. Although Withernwick's blacksmith doesn't quite end there, some of you may remember David Athey; he went on to become a blacksmith and still is - visit his website on www.davidathey.co.uk. David has told me the story of one of the Bulsons didn't pay his bill to Wilf Skelton, Wilf threw the said Bulson into his own pond - you obviously don't mess with blacksmiths!

And to sum up, the blacksmiths of Withernwick (the dates are of the censuses:

1841-1851 Barrington Webster
1841-1871 Mark Coulthread
1841-1881 William/Matthew Coupland
1891-1911 Arthur Dibnah (maybe later also)
Wilf Skelton (unknown dates)

Click here to see census details of most of the people mentioned in the above article.

******************************************************************************************************************************

The Street Names of Withernwick - by Paul Boyle

We are all now familiar with the street names of the village, there aren't many to remember, but they have not always been the same. The only one that seems to be consistently used is Church Lane, all the others have changed over the year except for one other curiosity, Butcher's Lane, now just a grassy footpath but obviously the name is of some antiquity.
In the 1805 map (click here) only Beverley Road and Hatfield Roads are marked. The 1812 field map (click here) is more helpful, although it is difficult to read, Church Lane and Butcher's Lane are marked, Beverley Road is called Leaper's Lane and High Steet is called Townside Lane.
The 1890 map (click here) only has Church Lane marked. The censuses from 1841 to 1911 are very confusing at times and often lump great chunks of the village together with no street names. Again, Church Lane is the only name consistently used, Main Street is considered to be an extension of Aldbrough Road and High Street has several names - Chapel Lane (after the Primitive Methodist Chapel) or Gate Lane (after the Gate Inn). Some of the terrace names crop up such as Tanton Terrace, Lorne Terrace, Mill Row and Club Row (now Lynton Terrace).
It would be interesting to know when the streets aquired their current names, it must have been in the 20th century, and for the oldest streets in the centre we have unimaginative names Beverley Road, Main Street and High Street; only Church Lane has its original name. The enigmatic name of Butcher's Lane still exists even on Google maps - there suggesting that it is a significant tarmaced road, it even has an extension called Ockenden Road!. We have managed to revive the name for the footpath from High Street to Aldbrough Road as The Bauk/Boke (click here) except no one is sure how to spell it. There is also Pratt's Lane which is obviously of some age but is never mentioned anywhere. West Lambwath road is the road from the crossroads, this seems to be a modern name although obviously an old road; the footpath from the end of that road to West Newton and Marton is sometimes called Straits Lane, this is obviously a fairly ancient track.
The only significant new roads in the village are Mill Lane off Pratt's Lane and East Lambwath Road. The name of Mill Lane is associated with Mill Row, itself a recollection of the mill (click here) that stood in the field opposite. East Lambath Road was probably associated with the renaming of West Lambwath Road, both derived from the stream at the bottom of the village (locally pronounced without the w).
It is very unlikely that any more new roads will be built in Withernwick and, so it is highly likely that the present street names will stay with is for a long time now - but renaming Beverley Road as Leaper's Lane sounds good!

******************************************************************************************************************************

The Youth Club and Rise Hall in the 1950's - by Terry Ireland

When the Youth Club started in the 50's Mrs Hewson, the Rev's wife was the leader and she really worked hard at it. In 1959 she got the club on a Youth Exchange and Alan Hodson and her son Charlie spent a good week in Scwabish Hall, Germany, and in return Bernd and Hans came to the village for a week.
Most exciting for us boys though was her contact with St. Philomena's Convent School in Rise Hall. Mr Hewson was also the vicar of Rise which helped the contact along. For those not in the know, St Philomena's was a young ladies school, with girls from all over Europe. It was said the grounds were patrolled by the Keeper and his dog on a night.
So, imagine the excitement when Mrs Hewson arranged for a team from the club to play Table tennis and tennis with the girls. Whether it was to give us a taste of mixing with a better class of girl, or to let them mix with the yokels we didn't know, or for that matter care.
So, one nice summer night we all cycled to Rise, maybe 7 or 8 of us, boys and girls. for a look into a different world. As it happened we knew one of the girls, a local farmer's daughter which made things easier. They had good hard courts and we played for a couple of hours, had buns and fizz etc. and left. The tennis was considered a success by all and we were invited back in winter for the table tennis, and that was a different matter. Remember we were 15/16 and some of St Phil's girls were older, certainly more sophisticated and living in a totally female society.
In those gentler times we'd never heard of Testosterone, but we were certainly feeling its effects. So, we are in a games room having a great time, well aware that at every corner of the room a figure in black was watching.
What excitement when one of the girls suggested two of us went to the Library (I think it was the Library) with them. All excited we slipped out into the Library only to be greeted by a smiling figure in black obviously strategically stationed there. Those ladies knew their girl. We of course, for appearance sake had to look at the books before beating a retreat.
At the end of the night as we were leaving after the sandwiches and pop we were give a whispered invitation to come back at Midnight for a snack in the grounds with the girls. We were sure they were serious and much discussion followed on the bike ride home. We were going back later.
We didn't go of course. My excuse was I didn't wake up, but I think it was the fear of the keeper and his dog that really kept us away. I don't think we were ever invited again, and the last time I was at the Hall was in 1960 when they held an Ox Roast Licensed Barbecue in the grounds.
I remember that night because it was the day my first niece Carroll was born, and three months later I was in the Army.

*******************************************************************************************************************************
Memories of James Eric Beeton from 1915-1926

James was born in the village in 1915 and was the son of Ernest Beeton and Christiana (Kearny). Click here 1, 2, 3 to see photos of James.
I lived-in the village between the years of 1915 and 1926.
There was no electricity, gas, water or sewage, lighting was by paraffin lamps and candles. Drinking water was pumped by hand from a well near each house or group of houses. Toilets were usually away from the house at the bottom of the garden and were earth closets.
There were three shops - W. Ellis & Son in Main Street, opposite the Methodist Sunday School. H. Morris, opposite Foresters Hall, which was also the Post Office, and Mr. Dobson in Church Lane.
My father worked for W. Ellis & Son - click here for a photo. He also travelled by horse and cart taking groceries to places like Whitedale, Oak Cottages, New Ellerby, Marton and Rise. The butcher was Mr. Dunn - next door to the Methodist Church. Opposite the Chapel was Mr. Carr, the joiner and undertaker.
My grandfather, Mr. Tom Kearny was the postman. He rode a cycle and collected the mail from Whitedale Station, sorted the mail at the station and then made his way back to Withernwick. He also checked his pocket watch with the station clock to bring the correct time back with him for the people of the village. There was no radio in use then. He lived in what is now RoseCottage. Next door lived the tailor (Walter Pattinson) who could be seen at work by a work bench or table through a fairly large window at the front of the house. It is now called Lambwath Cottage.

None of the houses in the village had numbers, a few had names. I lived in High Street, in a cottage which is now number 8. Opposite to our house is Holderness House, which in those days was the "Homco Stores", a warehouse where various kinds of cattle feed, cake, nuts, etc, was stored. It was brought by lorry (with acetylene gas lamps) from the mills in Hull. Farmers were able to collect the cattle feed when they needed it.
I remember the primitive Methodist Chapel in High Street being used as a Chapel, but it later became the carriers depot. In the cold weather the carrier - Mr. J R. Kearry (who lived in Church Lane), used a lorry (Ford 'T') to collect goods from Hull and deliver in the district. In the summer-time he took the lorry body off and put on a Charabang body so that he could take people out - such as the Sunday School outing to the seaside at Hornsea. It was sometimes necessary for some people to get out of the bus on the journey back home so that it could safely climb Southwark Hill!
Mr. Longman was the blacksmith at the forge in Church Lane. When he left, Mr. W. Skelton took his place. In premises near the forge there used to be the Harrison and Dibnah families, who I think were wheelwrights and cabinet makers. The cobbler was Mr. J. Harsley, his shop was at the back of the Methodist Sunday School room and often visited by people, just for a talk, as well as your 'boot and shoe' repairs. He was also Sunday School Leader. When he died a cobbler called Bernard Hardy took over in a wooden building at the top of Mill Lane. The first cottage in Mill Row was the home of Mr. Capper, the watchmaker. His workshop was the small brick building, which is still standing.


**************************************************************************************************************************************************************************
Memories of Withernwick School in the 1960's by Wendy Simpson
My first memories of Withernwick School are being taken by my dad at the age of four and a half and feeling a little scared. Two of us started that day, a term early because the numbers were down to around seventeen and there was talk of the school closing, as there often was in those days. After that first day I was not scared anymore and could not wait to get there on a morning.

The things that stick in my memory about being in the Infants (or class one) as it is now known, are going into the Schoolhouse which then was the home of the Headmaster, his wife and family. We used to go and sit in their front room and watch television programmes and sometimes we used to go into the kitchen and bake biscuits and things. In the summertime when sports day was looming up, we used to use the lawn of the Schoolhouse to practice for sports day.

One thing I didn't like was having to go outside to go to the toilet, it always seemed to be cold and windy and there was also always a big spider lurking in one of the corners!

One of my first memories of school dinners was asking for just jam when it was rice pudding for dinner, I still don't like rice pudding now. We also used to get free school milk every day, in the summer warm and sour, and in the winter freezing with lumps of ice in it!

In the Juniors you started to feel very grown up and did more things on your own. We were even allowed out of school measuring distances around the village etc. During my time in the Juniors the swimming pool at Hornsea Primary School opened and we started going for swimming lessons. It was always freezing! We had to get changed in the cloakroom at Hornsea School and then walk right through the school to the pool and have our lesson and then shiver back to the cloakrooms to get dressed again.

We used to have inter-sports days with other schools. It was always held at one of the big schools, there always seemed to be hundreds from all the other schools and then just us few from Withernwick with our cardboard "W's" on our fronts in case we got lost. I'm sure we made up for what we lacked in numbers, in effort.

When I was eight my dad died and I remember dreading going back to school, thinking what people might say or be thinking about me. However everyone was brilliant and helped me all the time, which really meant a lot to me.

One of my funniest memories was being in assembly one morning, we were stood in two rows and the girl next to me fainted, but as she slowly went down to the floor she grabbed at the girl to the other side of her and pulled her skirt down to the floor. We were all "in stitches" I can't remember how the poor girl who fainted was because we were all laughing so much.

These are just a few of many happy memories of my days at Withernwick School. Four generations of my family have attended the school past and present and I am very proud to have been associated with it both then and now.

********************************************************************************************************************************
Withernwick School Dinners in the 1970's and 1990's by Shirley Smith

Click here for sample menus from the 1970's and 1990's

In the early 1970's school meals arrived from Hornsea Primary School Kitchens at 11.30 a.m. They were pre-packed in large aluminium containers transported by taxi.

Place settings consisting of knife, fork, spoon, and plastic beaker, were laid out on tressel tables, seating usually between 8 and 10 children. Salt and Pepper were also provided along with a jug of water to drink. A large table at the top of the dining room was set up with the large containers holding the meal for the day. Dinner plates and pudding dishes made from coloured plastic were piled up at one end of this table ready for the children to pick up and move along to be served with the various savoury dishes. When the main course was over the same routine began again for the pudding.

After the children had eaten their meal, all the tins, plates, cutlery, beakers etc. were carried through to the section in the entrance hall where the earthenware sink and a wooden draining board were located. Everything was washed up by hand and tea towel dried, and then put away in the cupboard ready for the next time.

Here we now are in the mid 1990's and the school meals still arrive from Hornsea Primary School Kitchens. At 11.30 a.m. the steriliser is filled and switched on. The meals are delivered in a specially provided van at 11.45 a.m. Each dish is in a small food container placed in a thermoport. On the arrival of the meals each item of foea is tested for temperature with a probe, hot dishes 63' or over, cold dishes 10' or under: All the temperatures are then recorded on 'a form.

Set up on a trolley are flight trays, a container for cutlery and clear perspex glasses for water. Octagonal formica top tables are wiped over with a special solution to kill the germs. The children collect a flight tray and the necessary cutlery and are then served with the whole meal.

When the meal is over, everything is stacked and taken into the new kitchen extension. Glasses and cutlery are washed and placed in baskets and then transferred to the steriliseI'. The flight trays are scrubbed with a brush and then they are also placed in racks and submerged in the steriliser. After 2 minutes they are brought out, drained and finished off with a cloth, then stored away in formica kitchen cupboards, all ready for the next time.

Numerous changes have taken place over the years, mostly for the better, only the children's appetites remain the same! Hoping that lunch time continues to be the happy time that it has always been in the past.
********************************************************************************************************************************
Withermwick Hall Farm in the 1960's by John Witty
I worked for Withernwick Hall farm and they were very good to work for. The work was but paid a very good wages and also paid for our car fuel, services and tyres. We always had a Christmas party in Hull Skyline Ballroom which was all free, plus we at the farm got extra £10, a bottle of scotch whisky and a large fresh turkey, also if you smoked you got 100 cigs. On the farm we had pigs and used grow barely that we used mill up with other feed from Waterloo Feeds in Hull. We had 150 sows, it so was good to look after them as they were not packed in pens and so had a lot of freedom. Us young ones used help with the harvest, David Griffiths would drive the combine harvester, look after the corn coming in and feed the pigs. If we working late Caroline brown (Peter Brown's wife) used bring food out for us such as freshly made scones with homemade jam and some beer. After the harvest they use have a big dinner party with fresh homemade cream trifles and the best roast beef and pork cooked by Caroline. If there was any left they would give it to us to take home, not bad for lunch time. If you were going out on a night they would lend you one their cars but not the Bentley of course. It was very sad when they sold up and moved but I still receive a Christmas card from Caroline. Peter died a few years ago sadly in a accident, they had a lovely daughter Suzie and a son James.
********************************************************************************************************************************
The Holt Family in the early 19th Century by Alison Gilewski
Martin Holt was born about 1806. At this stage we have not found an entry for his christening and this could prove difficult, not knowing who his parents were. At the age of 25 years, Martin married Mary Mainprize on the 26th of November 1831 in Leven, Yorkshire.

Martin died on the 2nd of February 1841. It is written on the death certificate that he died at Witheran. This is most probably, of course, Withernwick. Martin was buried in an unmarked grave in St Alban's Withernwick, Yorkshire, England, leaving Mary with a young family to support. Martin's cause of death was 'Contraction of the Pylorus'. The pylorus is the point at which the stomach passes into the intestine. The informant on his death certificate was a Mary Sheall, who was in attendance during the last illness. On his death certificate and also at each of the baptisms of his children, Martin is noted as being a labourer, more than likely, a farm labourer.

Farm labourers can be difficult to trace for the family researcher. I always thought that because I was looking at the early 1800s, the family would have remained in the one town forever and ever. How wrong I was. They moved from Parish to Parish, seeking employment. The hiring of farm servants was conducted during the slackest time of farm work, but probably the worst possible time of the year for the farm servant. Late in November was the time for hiring and the days are then about the shortest and darkest, the roads were at their dirtiest. These hiring days were commonly called Mop Fairs, where everybody would crowd into the marketplace. After the business of hiring was completed, the rest of the day was given up to enjoying the amusements at the Fair.

The actual hiring of the servants took place in the open street. Many of the servants were bound legally to their masters for one year. They would have received certain wages for their work and they had to work hard to earn them. From dusk to dawn, the work was continuous. Ploughing, sowing, harrowing, rolling, washing, milking, hedging, ditching and threshing kept the workers busy and fit. A clergyman stated in the 1800s that "the Yorkshire lads were as fine and well-developed a race as one can see anywhere; an army composed of such material might do wonders".
Another clergy, not being born in Yorkshire remarked that –
"Yorkshire folk seem money-lovers. They are very hospitable people, even the poor invite you in for tea and offer the best in the house. They are very sociable and friendly with one another, but are suspicious of strangers. They seem cautious in all their sayings and doings. They are warm-hearted. They have a strong sense of quiet humour and they know every inch of their own country, and treasure the biographies of their own kin."
Five children were born to Martin and Mary, all in Withernwick.
M

artin

H

olt

=
M

ary Mainprize

b c 1806
d 2nd Feb 1841
b c 1804
d 26th Nov 1889

W

illiam

A

nn

J

ane

E

sther

C

hristiana

R

obert

b 1832
b 1834
b 1835
b 1837
b 1839
In 1841, on the night of the census, Mary's brother was staying with her and the children. George Mainprice was 40 years of age and was a brickmaker. By 1851, Mary had married John Russell , a bricklayer with four children aged between 5 and 20. They were living at Hornsea, about 4 ½ miles from Withernwick. The only Holt child in the house that night was Theresa aged 5 years.

After the death of Martin Holt, a child named Theresa Holt was baptised on the 6th of July 1845, in the Withernwick Parish Church. No father was named at the christening, only that Mary Holt, the mother, was a widow of Withernwick.

At the age of 84 years, Mary died on the 26th of November 1889 at 1 Frith's Cottage, Portland Street, Hull, Yorkshire, England. Mary had seen both her husbands pre-decease her. The cause of death was Senectus, which simply means old age. Elizabeth Holt, her daughter-in-law, who was present at her death, was the informant.

In 1853, William (aged 21 at the time) emigrated to Australia which must have been a long and difficult journey in those days.

Alison Gilewski - Queensland, Australia - a direct descendent of William

To see a photo of William and his wife Mary in later life in Australia and also Martin's death certificate - click here

**************************************************************************************************************************************************************************



Walter Radford Welch by Paul Boyle (with many thanks to Jo Gale a descendant of Walter for the clips from
the Hull Daily Mail).

Walter was vicar of Withernwick from 1891 to about 1901. He was born in Birmingham in 1847, so obviously the Chruch of England expected their clergy to be pretty mobile in those days, though of course the railway was well established by then. He and his family moved into the Vicarage on Beverley Road, this included two daughters and four sons, the family also had two servants, one male (George Bridgeham from Hull) and one female (Alice Carrington originally from Docking in Norfolk, one might also wonder how she ended up in Withernwick at the age of 19). His life as a vicar seems to have passed uneventfully although we can imagine that he had quite a large congregation for services in St Albans. His family however were more interesting, his eldest son (also Walter Radford) married Sarah Taylor in 1901, no doubt in St Albans and officiated by Walter senior). The Taylor family lived at Manor Farm, South End and, judging by their gravestones in St Alban's churchyard, they were one of the wealthiest in the village at the time. So young Walter had obviously married well. Another son, George Radford joined the army and is recored as joining the 17th Lancers at York on 4th December 1899; by 1901 he is recorded as being in South Africa, so we must assume he was involved in fighting in the Boer War. He married a Elizabeth Woodville Price in Shangai in 1914 and from there ended up living in Australia. People did have surprisingly adventurous lives back one hundred years ago or so.
Back to Walter senior, in May 1900 he is in an argument with Arthur Nighingale which leads to a trial. Apparently the village was rife with rumours that Walter had had an affair with Arthur's wife Jane. Both Walter and Jane denied that any such thing had happened but obviously Arthur was not convinced. At some point Arthur has publically hurled abuse at Walter about the rumours and this came to trial as Walter brought a case against Arthur over the abuse. Click here to read an article from the Hull Daily Mail of 30th May 1900 about the trial, Arthur was found guilty and had to pay a fine of £1.
In the 1901 census he is recorded as living in Middlesbrough at 159 Lindthorpe Road, which is now (and appears to have been so then) a shop. In the Vicarage in Withernwick is young Walter and Sarah along with one Frederick Thwaite a clergyman from Halifax, who is obviously some substitute for Walter senior. In 1900, Walter is described as being ill (in the Hull Daily Mail), such that he could not continue with his duties as vicar. On 16th September 1902 Elizabeth (Walter's wife) died in the Vicarage at Withernwick. Then 18th February 1903, Walter dies in Hornsea; this again is in the Hull Daily Mail where it clearly states that he was buried in St Alban's on the 20th February 1903. Click here to see these clips from the Hull Daily Mail. Sadly we do not have a photo of any of the above characters but it does paint an interesting little tale of life in Withernwick just over 100 years ago. People are surprisingly mobile and adventurous, perhaps more so than today given that travel is so much easier now.

Click here to see census details of the above characters, along with photos of the Vicarage in Beverley Road and 159 Lindthorpe Road, Middlesbrough.

********************************************************************************************************************************

Memories of Withernwick by Liz Ramus (nee Stamford)

George and Annie Stamford were my paternal grandparents and they had four children. Dorothy who married Leslie Walgate and lived at Willow Farm on Beverley Road, Reginald (my father) who married Doreen Hesk and they lived at Fourwynds on the Whitedale/Hatfield road, Lewis who married Nellie Walker and they lived in Withernwick Grange, Donald married Bessie and they lived in Hull.

I was born in 1944 and went to Withernwick school until 11 and then I went to Hornsea and eventually went to Beverley High. From those days people such as John Witty and Terry Ireland. Hetty Dunn tried to teach me the piano but I think I was tone deaf!! I remember the White Cottage, where Hetty lived, and thought their garden was a dream. It was a typical cottage garden and I always had this image of it being magical in a childlike way.

When I got married in 1972 I asked Emily Medforth if she would play the organ for us as she had taught me at school. I don't think this went down too well as Hetty was the church organist. I also remember setting on the groomsmen and some of our friends a few days before the wedding to weed the church grounds as they had become quite overgrown!!! I remember the Ellis family who had one of the shops and also the Nicholsons who had the other. Bernard was the village postman who had a club foot. Adrian Voase was the butcher. I have two brothers Richard and Stuart Stamford. Richard now lives in Harrogate too and he has been over to Withernwick more than me as he tends to keep an eye on the family grave. We will make a point of coming over and reminiscing over what was a lovely childhood.

I play bridge as one of my hobbies and I maintain that my love of cards started in the Village Hall when I used to go to whist drives at quite an early age. I remember that Percy Barrick was the MC and lived in the big house across from the Post Office and then lived in a smaller house on the same side as the PO.

I remember Wilf Skelton who was the blacksmith and they lived next door to the Gibbons. I use to keep in touch with Ann Gibbon for many years and then we lost touch.

I also knew Phillip and Josie Clappison who I last saw at the wedding of Richard Hesk in 2002. I know Josie has died and that Phillip is practically housebound. My uncle, George Hesk married Phyllis Clappison and they lived at Eastacres where Phillip lives now.

I was the same age as Rosemary Harsley and she lived at Whitedale too. The Hornbys lived on the first farm on the right (Whitedale Farm) and then you got to the Wittys farm on the left (Westlands Farm). Dora Witty and my mother Doreen were in the WRVS and helped at the Darby and Joan club. They also belonged to Withernwick WI.

******************************************************************************************************

Christmas in Withernwick 1944 by Chris Tomlinson

Chris was evacuated to Withernwick from London in 1944, to read the story of his general life in the village - click here

Three score years and ten have passed since the Christmas I spent with Ivy Gowthorpe whilst I was with her at No. 10, High Street in 1944.
The old memory retention tools that remain in my head can't tell me what I had for breakfast this morning but if I ask them to recall incidents a lifetime ago, not a problem.
There was an ambiance in her house that was accentuated by certain smells you don't experience often these days. Oil lamps and candle wax gave off the fragrances in most rooms but carbolic, starch and detol in the scullery whilst the aromas of the meal of the day wafted through the whole of the house. She always had sprigs of lavender around the place too. Ivy was a living dynamo and I rarely remember her relaxing all the year I was with her except on the times she went to the hall for the whist drive and dances and to watch a film. Even in the church, she was up and pumping the bellows for the organ.
On Christmas morning, she woke me early and took me down stairs to the front room where the fire was already blazing in the cast iron range ready for a goose she had acquired. On the table was half a glass of milk and a half eaten cheese sandwich and some carrots that had teeth marks in.
At that time I was seven years old and still believed in Santa. He had stopped by for a snack for himself and his reindeers. (Rudolph had yet to appear on the Christmas scene).
On the table was a pillow case he had left for me. Times were so austere then that it was always best to expect nothing and then be content if anything turned up. In the bag was a book. it was called 'Just William' by Richmel Crompton. It was my first proper book of words. Also an Orange. No idea how she managed to get hold of that unless from USAAF Px. There was a snake belt! All boys at that time and age wanted a Snake belt. It was made of webbing but usually with two colours but the clasp was in the form of an Ess shape like a snake that hooked it together at the front. It was not new but it was what Ivy knew I really wanted. Then, there was the draughts set. How wonderful. She had cut a piece of cardboard out and marked out the 64 squares and coloured them red and black. In a cardboard box there were the draughts. twelve red and twelve black. All were car battery screw tops. That game provided the two of us endless amusement during that winter.
After breakfast we wrapped up warm and turned left from her door and left again to walk down Butcher's Lane. it was quite deep snow at the time and it was hard going but in the first field a few people were clearing snow from the frozen flood water beneath so that they could ice skate.
We continued on for some distance till we arrived at a big house. I think it was Withernwick Hall but I have never bothered to establish that. To this day, I am unaware of the reason or cause for the Christmas day visit but we did go in and Ivy gave something to someone and we were given a small glass of Ginger wine each before we trudged back.
On the return trip there were many people skating and skylarking on the ice and in the snow. Everyone seemed so happy which was so good to experience.
We walked straight to the Church, in time for the Christmas morning service. Ivy always had large peppermint drops for me to suck on so I made no noise or sang out of tune.
Back at the house, Ivy set about making Christmas dinner and we were having guests. I recall about six or seven people sitting squashed 'round the table but I can't remember who they were. I do recall that the room was festooned with coloured paper chains that Ivy and I had been making for weeks previously out of strips of newspaper we had painted and glued together. And pride of place was a Yule log saved from pre-war with snow on it and a small Robin Red breast and twigs of holly on it. There were no Chrismas Crackers and no paper hats but it was very cheerful and I remember the bottles of sherry on the table.
The meat was goose. I'd never tasted it before and when it was served to me it seemed as though my portion was all fat. I could not eat it but ate everything else and tried to hide the meat under some cabbage or something but she saw that and in front of the assembly I was truly chastised. But I just could not eat it. A black mark on a golden day.
Then, the precious radio was switched on and warmed up to hear The King's speech. They played the National Anthem and we all stood quietly to attention till it ended. For a seven year old as solemn as that was it was so boring but I waited till everyone had left and helped Ivy clear up and wash the dishes. It was then that she remembered the Christmas Pudding. It had not been ready in time for the meal so we had had mince pies and custard instead. Soooooo... we had the whole Christmas pudding to ourselves. It last quite a few days and it was so good and rich. I can still taste it.
In the evening we went to the house on the corner opposite the Falcon. Since then, I realise this was Mid Moulds folks house and Ivy's sister. All the kids amused themselves and I think the grown ups went to the pub. It was a very long day and apart from the 'Goose' incident, it was so lovely.
Next day, boxing day was quiet with a steady stream of people coming and going till after lunch when she made me put on my best clothes and polish my boots and slick my hair down and clean my fingernails for the stroll down the High Street to visit Mr and Mrs Cherry. I don't recall a Mr. Cherry but it was as though he was the head of the Gentry in the village. I sat at a table with lemonade and a big slab of fruit cake. The house was beautifully furnished. Just like those in American picture shows. The carpet fitted the whole of the rooms and all the way up the stairs. They had electricity too. (Maybe from generator. )
I had been with Ivy since late April that year and was to stay there till mid-May 1945 when the war ended. She always related to me the news that my mother sent her by mail from London but I never saw my mother in all the time I was there. My father on the other hand was originally stationed there in Withernwick as the chronicles in the Web Site declare but he had gone south with the R.A. Battery in the summer of '44 to defend London from the V Weapons.
When I look at the map of the village, my eyes are always drawn to the foot path known to me in those days as 'The Back'. It was the short cut we used to get to school from that end of the High Street. I think it is really know as The Baulk but I must have lost something in the translation being a little snotty cockney lad at the time.
I hope we can be forgiven for indulging in such nostalgia but give such thoughts a few extra years and nostalgia can transform into history. People like Ivy Gowthorpe were the lifeblood of the village and she and many others like her never sought recognition or kudos. There are those currently active in the life of the village that are following in these footsteps. We are all transient but the Village lives on.



*******************************************************************************************************



The Lumley's of Withernwick, Illinois and Ponca City Oklahoma

Click here to see photos connected with this Tale.

The Lumley family only lived in Withernwick for a matter of 15 years or so, but their Tale is very interesting. John Lumley was born in Welton in 1811, he probably ended up in the village via a hiring fair in Beverley or Hull. Like so many people at the time, John would have been a farm labourer. There he met Ann Simpson, who was born in the village in 1823. They were married in St Alban's church in 1847. An interesting point is that Ann already had a daughter by that time, Ellen Bramley Simpson was born in Withernwick in 1846. This would no doubt have been a rather scandalous event in such past times. We can't be sure if John was the father or not, but she was brought up by John and Ann. In their time in the village they had three more children, Robert, Mary Ann and William (they did have more later).
As we can easily guess, life as a farm labourer in 19th Century Withernwick (or anywhere else in Britain) was tough. We could imagine John sitting in the Old Gate (the Falcon didn't become the village pub until c 1890), having a beer with a friend and discussing how tough life was. Then someone might suggest that he'd heard that there were great opportunities in America. This obviously sowed some seeds of thought in John's mind beacuse in 1860 he left for America. This, in the days before the internet, would have been a frightening step into the unknown. At this stage, he was on his own and ended up in McHenry County Illinois (not far from Chicago, which would have been a well developed city by that date).
In the 1861 census, Ann and the children are in Hull (presumably as a half-way step). They follow John in 1866, we can guess they needed to wait to collect enough money. Ellen did not go with them, she remained in Hull and in 1862 she married a William Wass. She evetually died in 1919 aged 72, by which time she'd had 15 children.
Back in Illinois, the family continued to live in McHenry County. One of the Withernwick children William, married a local girl, Ada Lilla Rich in 1876 (when he was aged 23). He then proceeded to move around a little, by 1895 he is in Willow Springs, Missouri, then a little later in Cherokee County, Kansas; finally, by 1910, he and Ada end up in Ponca City, Oklahoma, these last three places are all quite near to each other (by American standards!). On the above link, there is a photo of William and Ada in Ponca City and a contemporary photo of the city. Ponca City does still feel a little like the Wild West, even in 1910. We do have to wonder if William remembered any of his childhood in Withernwick. He would have no doubt attended the village school where, in his time, two headmasters would have overlapped - William Sherrington and Edward Nelling Earnshaw. William died in Ponca City in 1917 aged 64.
An intested extension of this Tale concerns one if William's sons, William H Lumley which probably shows how the family had exchanged one tough life for another (not quite sure if it was from frying pan to fire). In 1827

Tulsa Daily World, April 9, 1927

Ponca City, April 8—Resulting from a quarrel over several mules. F. W. Rile (or Riddle), 40 a teamster shot and killed (William) Harrison Lumley, 38, horse trader, about noon today.
Rile used a shotgun and then surrendered to officers. He had charged Lumley with selling mules which belonged to Rile and the latter had reported the fact to officers. Riddle charged that Lumley chased him yesterday with a knife and returned today for a similar purpose. He had the shotgun along for protection.

Who knows how his life may have ended up had his family stayed in Withernwick.

*********************************************************************************************************************************

Memories of Withernwick by Valerie Spowage (nee Fisher)


My name is Valerie Spowage, nee Fisher the daughter of James and Madeleine (Daisy) Fisher of 2 Lynton Cottages in the Main Street. I was born and grew up in Withernwick back in the 1940-50's. I recently found this website and have spent quite some time enjoying reading about disappearing memories of a beautiful time and a beautiful place when life seemed so much simpler. As my memories are fading these days I thought I would take the time to share some of my childhood recollections of life in the village. My brother Victor Fisher and I would walk down the Main Street arm in arm and everyone used to call us the 'Bisto Kids' because we looked like the children on the old packaging!
As a young child I used to almost live on Walgate's Farm. Mrs Walgate used to say, "here comes our Valerie". I would measure out the milk from the churns and deliver around the village. I would also collect eggs but Mrs Walgate always knew if the chickens had a hidden nest somewhere and she knew that I would find the nest under a hedge somewhere.
I would regularly ride my bicycle, who didn't back then, to Whitedale Station to meet Alice Jennison and Terry Ireland off the train. We would often return to Alice's home for a game of cards.
At the time I used to visit the Falcon I remember Mr and Mrs Medcalf being the Landlords. I would often play with the Medcalf's grandchildren Anne and Len. After the Falcon closed we were allowed to go into the pub to play domino's. The clearest memory I have of the Falcon is the Christmas Pudding and the race to find the silver thruppence.
My Father, James Fisher used to grow and supply a range of fruit and vegetables to the village and surrounding areas. His strawberries were the best, in my humble opinion. They always went down a treat with lashings of cream at the Falcon. I do remember my brothers roping me in to be lookout behind the holly bush whilst they hid between the rows and pinched one or two. My warnings were futile as the boys were caught and not spared the belt. A lesson on theft well learnt!
Entertainment in Withernwick back in the 1940's was what you made of it and Mr Walgate's prize bull always garnered our attention for a bit of fun. We would jump over the old wooden gate with a red rag and retreat back over into the dyke when the bull charged because he didn't stop until he hit the gate! Can't quite remember who my comrades in arms were. Anyone out there remember the fun we had back then?
In March 1960 I was married to Barry Spowage in St Albans by Reverend Hewson and our Wedding Reception was held in the Village Hall. I relocated to Hull after my Wedding to raise our family, our 3 daughters Jeanette, Julie and Tracey were also christened at St Albans before we migrated to Adelaide, Australia in 1970.

Pictures of James and Madelaie 1 2 3 - Click here for photos of Valerie and her brothers and sisters